University Boosts Local Economy
12/03/2007 17:33:21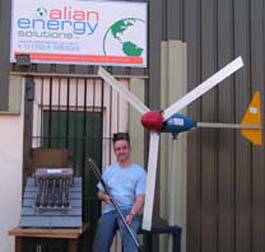 Ian Mecklenburgh of Alian Energy
A renewable energy business in Lancaster is to take on new staff thanks to free help and advice from Lancaster University.
Alian Energy on the Lune Industrial Estate sources and installs environmentally friendly products such as low energy light bulbs, domestic solar panels and commercial wind turbines.
The company benefited from free advice from the University's Lancaster Business Creation Project Two which enables entrepreneurs in North and West Lancashire to evaluate and explore the market potential for their idea.
The director of Alian, Ian Mecklenburgh, said the University's support had spurred him on.
"I could not have been happier. The University staff were really helpful and knowledgeable and were able to arrange funding for both registering as a limited company and also my website. I was taken step by step through the stages of setting up and finding further funding and choosing a web design company. Even after the start up, they are still available for consultation."
The Lancaster Business Creation Project Two is part funded by the European Regional Development Fund and delivers advice, consultancy, technical expertise and funding support to help entrepreneurs establish and grow new start-up companies, mainly in the technology sector.
Project Manager Jon Powell said: "The key to business success is in the planning and research in the early stages. Inventors, entrepreneurs, young professionals and small businesses can now discover whether their business idea will fly or flop, free of charge."
These ideas are assessed using newly developed software available online. The Rapid Idea Evaluation Software takes a visitor free of charge through a specially designed set of simple questions designed to assess the feasibility of an idea. The outcome is a clear action plan for the successful exploitation of their idea, developed in just a matter of minutes.
Another company to benefit is Estate Graphics based in Caton, which employs 34 people in Lancashire and Cumbria. The business is a one stop shop for people selling their home, providing help with the new home mover packs as well as environmental, searches and legal help.
CEO David Natush said: "The support we have had from staff at the Lancaster Business Creation Project has been invaluable. We have had assistance with incorporation costs, initial branding and web design. We are also working with InfoLab21 at the University on a research project that has some exciting prospects for the future."
Companies assisted to date have made an impact on regeneration of jobs and sales in Lancaster and surrounding area.
Mr Powell said: "By supporting new start ups in the crucial early stages to get the right underpinning in place, people in North & Western Lancashire will join the global entrepreneur community and make money from their ideas. The majority of new businesses fail because the planning is flawed, not necessarily the idea itself."
Potential clients for the project should complete the Rapid Idea Evaluation at http://lancaster.i2monline.com/