Lancaster Leadership Centre Launched by Sir Digby Jones
04/15/2005 15:03:55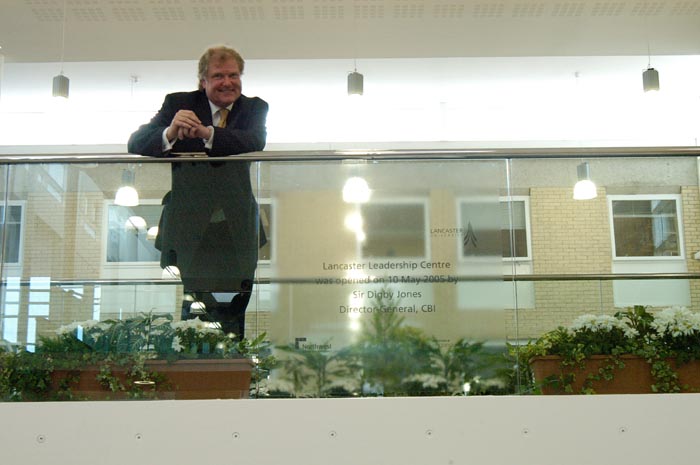 Sir Digby Jones
Lancaster University Management School has launched a new leadership centre to pioneer research, and develop the leaders of the future. Sir Digby Jones, Director General of the Confederation of British Industry, opened the new Lancaster Leadership Centre (LLC) on Tuesday, May 10th, at a ceremony attended by business leaders from across the country.
Based in Lancaster University's world-class Management School, the LLC is housed in a £10 million building, which was co-funded by the Northwest Regional Development Agency (NWDA) and the University. Leadership research and development have been a key part of the Management School's activities since 1977 and the new centre draws upon the work of many members of the Management faculty in several departments, centres and institutes.
More than 80 staff work in the LLC. Their work is pioneering new ways of building leadership capability in organisations across the world. The centre provides an impressive physical focus for this work, creating a new networking hub for the University and external partners. The glittering new building includes significantly improved postgraduate facilities, three state-of-the-art lecture theatres, an executive suite and flexible meeting spaces within easy reach of the new coffee bar/bistro.
The centre is directed by Professor Keith Grint who was previously Director of Research at the Saïd Business School and Fellow in Organisational Behaviour, Templeton College, University of Oxford.
Sir Digby Jones, who articulates policy on behalf of thousands of private companies across Britain, said: "Strong, effective and informed leadership is crucial to the success of British business. This state-of-the art facility will make a valuable contribution to leadership development across the UK and beyond. I am delighted to launch the new centre and will follow its development with interest."
Bryan Gray, Chairman of the NWDA, said: "This flagship scheme will allow Lancaster University Management School to build on its excellent track record of leadership research and development and will play a key role in developing the entrepreneurs of the future. The NWDA is firmly committed to developing and promoting effective management and leadership skills, which are essential elements of a successful economy. This new centre will crucially enhance the region's skills base and provide a valuable resource for businesses to exploit."
Lancaster University's Vice Chancellor Professor Paul Wellings said: "The Lancaster Leadership Centre is a magnificent flagship for the University's 6 * Management School, which is one of only two that meets the rigourous standards of the Higher Education Funding Council for England. I am delighted that, with the support of the NWDA, the region and the wider business community world wide, is now benefiting from Lancaster's research and teaching excellence."
Management School Dean Professor Sue Cox said: "Organisations from across all sectors recognise the importance of leadership and its development, and the Lancaster Leadership Centre offers them the largest and highest ranked faculty in the UK covering everything from research and programmes in leadership through to customised corporate development and business support. It is tremendously exciting to be a major player at this time for the benefit of the Northwest region and beyond."
Please follow link for further photograph DB2348682996375F80256FFD0050ED26 Please follow link for video clip of event http://www.lums.lancs.ac.uk/news/5434/ scroll down for video link