Olympic Gold Medallist is honoured by Lancaster University
07/18/2001 11:48:51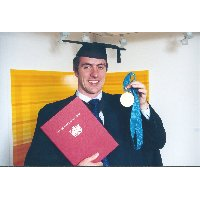 Lancastrian Jason Queally, a former student and member of Lancaster University staff, is a track cyclist of international distinction. After representing the University and British Universities at water polo, he began competitive cycling in 1995.
In 2000 he won gold and silver medals at the Sydney Olympics.
Jason Queally received a Master of Arts presented by HRH Princess Alexandra at a Ceremony that took place upon 11 July.
Jason who is a member of Bowland College at Lancaster University won the Gold Medal 1km sprint cycling in the Sydney Olympics last year and the silver. Jason graduated in Biological Science in 1992, and then worked as a research assistant with Professor Terry Mansfield. After working as a technician in the Biological Field Station, he left in 1996 to pursue his sporting career full-time. He stills keeps in touch with the department. He also met his girlfriend, Vicky, at Lancaster University. Jason was awarded the Alumni achievers award in recognition of his achievement.