Tourism Sector in Lancashire and Cumbria gets a helping hand
05/10/2007 16:43:14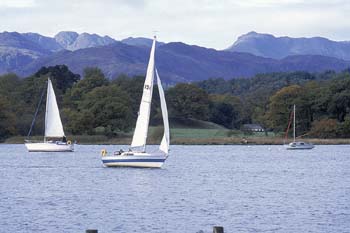 Businesses in the Lake District will be able to benefit from the workshops for the first time
Tourism businesses in Lancashire and Cumbria are being offered the chance to boost profits with expert advice from Lancaster University.
It is the first time that the University's Tourism Centre has run the free workshops in Lancashire and Cumbria - where around a fifth of people are employed in tourism in Cumbria alone.
Over 38,000 of these jobs are in the North West, with approximately 85% of them being directly in the visitor-economy.
The Tourism Centre has previously run workshops in Blackpool, with businesses reporting large increases in profits are a result. The Vidella Hotel said mid-week trade had risen by 40 per cent while the Seaton Guesthouse said turnover was up by £15,000.
Now the workshops are being rolled out across Lancashire and Cumbria this June.
The six Business Builder workshops are aimed at everyone from hotels to theme parks and caravan parks.
Alan Heywood, Manager of the Tourism Centre, said: "When you run a tourism business, you're also marketing the destination because it's how visitors feel about the place, it's about selling an experience.
"These workshops are run by high quality independent consultants with a track record of running their own business in the visitor economy. It's a chance to get inside specialist knowledge for free."
Topics include:
"The Search for the Big Idea" to be run in Penrith by Workhouse Creative Marketing.

"How to improve your revenues and profits in quiet times" to be run in North Lancashire by international hospitality marketing expert Malcolm Gallagher of Bizvision.

"Business Performance: increasing profits and productivity", to be run in North Western Cumbria, again with Malcolm Gallagher.
Mr Heywood said: "We understand that people running businesses are busy and don't always have the time to think creatively about how to improve their marketing. We're looking for ambitious businesses which want to take the next step and we can give them the confidence and skills to do that."
For more information about the workshops, please contact Alan Heywood on 01524 510900 www.thetourismcentre.lancaster.ac.uk. To check if your business is eligible for the workshops, visit www.objectivetwo.co.uk and click Free Checker.