Science and Technology Taster Day
07/06/2005 13:25:15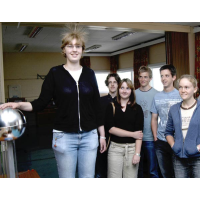 HUNDREDS of students from across the North West got a taste of life as a science student at Lancaster University this week.
More than 300 lower sixth students from 23 schools across the North West came up to the University to try out subjects ranging from Engineering to Biology.
The day, organised by Lancaster University's Schools and Colleges Liaison office, was designed to give students a flavour of real university life and the breadth of science and technology subjects on offer at Lancaster.
Eight Lancaster University departments took part in the event - Communication Systems, Engineering, Computing, Maths, Physics, Geography, Environmental Science and Biological Sciences.
Roger Gould, Head of Schools and Colleges Liaison, said: "Today we're delighted to welcome Year 12 students to the Lancaster University campus to work with our teaching staff and researchers. The overwhelming response we have had to this event shows how popular the sciences here are, and we hope this experience will encourage participants to pursue science courses when applying to universities in the future. It's an excellent opportunity for them to get a flavour of real student life and some hands-on experience of the first-rate science taught at Lancaster."
Professor Mary Smyth, Dean of Applied Sciences at Lancaster, said: "Sciences at Lancaster are taught in a stimulating and well resourced environment. The University offers a wide range of courses taught by world class experts and has an established international reputation for research."
All the feedback which has been received has been positive.
"Thanks very much - the students enjoyed the day and learnt a lot in terms of experiencing university - lectures labs etc. You had managed to organise a lot of people effectively" (Arnold School)
"Quite a few students have indicated that they are now seriously considering coming to Lancaster - they had not realised that they had such a large progressive University effectively on their doorstep. Several commented that they liked the idea of being on a campus as opposed to the worry of living in a big city like Manchester" (Cardinal Newman College)
"Overall they formed good opinions of the University and Engineering dept. and they enjoyed the experience. Thanks for organising it and we would certainly be interested again next year." (Millom School)