New home for rare book collection
01/26/2006 16:21:36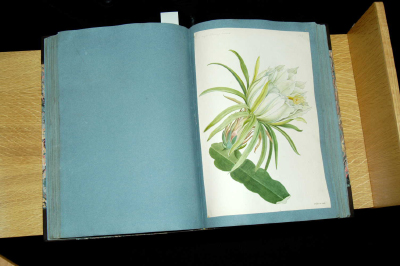 One of the rare books currently housed at Lancaster
Lancaster University has been chosen as the custodian of a collection of rare and valuable books and manuscripts, the earliest of which dates back to the 11th Century.
The jewel of the collection is John James' Audubon's wonderfully illustrated Birds of America (four volumes), housed in their own ornately carved bookcase. This represents one of a few held in libraries in the UK and is considered by Sotheby's to be the finest they have seen. The collection also includes a Shakespeare First Folio, in excellent condition.
The copy of Ovid's Histories, with annotations in what is believed to be Shakespeare's handwriting, from the Library of Thomas Preston, is also held on deposit in the University's Rare Book Archive on behalf of Cartmel Priory.
Other aspects of the collection include manuscripts and letters referring to Mary Queen of Scots, some signed by Queen Elizabeth I, 15th-century Books of Hours and some of the originals of Pierre Joseph Redouté's Les Roses. The collection numbers 52 works encompassing 132 volumes.
Lancaster University, renowned for the excellence of its research, was chosen as the deposit for the collection by Lord Hesketh, whose ancestral connections with Lancashire date back to the family's original home at Rufford Old Hall. The collection, housed in the University's Rare Book Archive, remains in the ownership of the Trustees of the late second Baron Hesketh.
The collection will provide an important resource for national and international scholars in Arts, Social Sciences, Geography and Biology and will inevitably benefit the new Lancaster Institute for Contemporary Arts.

Vice-Chancellor Professor Paul Wellings commented: "We are delighted that Lord Hesketh has chosen to deposit such a rare and interesting collection of works with Lancaster University. Our research facilities are of immense importance and we recently invested further in humanities through the formation of the Lancaster Institute for Contemporary Arts. Some of the books in the collection contain marvellous illustrations of fauna and flora which will be of interest to academics in the Lancaster Environment Centre and to visiting scholars from far and wide."
Expectations are that the public will be able to view some of the books at special exhibitions in due course. Meanwhile, consultations are available to bona fide researchers by prior arrangement with Lancaster University's Rare Book Archive Curator.

Alexander Hesketh, 53, the third Baron Hesketh, is Chairman of the Conservative Party Foundation and a former Chief Whip in the House of Lords.
The collection has been loaned to Lancaster University for 10 years in the first instance, subject to review.