Lancaster First for Graduate Jobs in the North
11/13/2009 10:30:22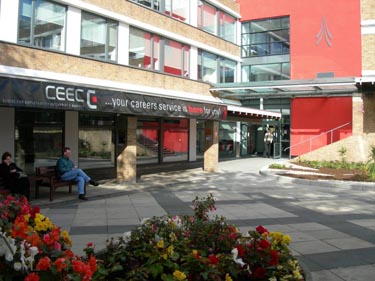 Lancaster University's Centre for Enterprise, Employability and Careers (CEEC).
Lancaster University is ranked 1st in the North for graduate jobs and 13th nationally in the Sunday Times University Guide. A total of 81.5 per cent of graduates from Lancaster are in a graduate level job six months after graduating according to this year's Guide.
This compares well with an 85.3 per cent rate of graduate level employment for both Oxford and Cambridge, which are jointly ranked sixth.Lancaster's success in the graduate employment market is being further improved with a new initiative administered by the University's Centre for Enterprise, Employability and Careers (CEEC).
The Lancaster Award prepares students for the job market by ensuring they develop the skills employers want, whether through work experience, volunteering or social activities.
They are then asked to complete a skills audit and job application before appearing before a mock job interview panel of an employer, careers advisor and academic. If successful, they gain the Lancaster Award which is proof for a future employer of marketable job skills.
John Morewood, European Graduate Recruitment Manager for HSBC, said: "Graduates face a greater challenge and more competition for jobs than ever before. The Lancaster Award helps students demonstrate that they have developed and possess the personal, social and employability skills that are invaluable to HSBC and other graduate recruiters across all sectors."
Over 400 freshers have already signed up to take part alongside 10 per cent of second and third years undergraduates. An integral part of the Lancaster Award is the 2 day Insight to Enterprise and Employability course which is offering 1200 places to undergraduates across all disciplines.
The Director of CEEC Paul Blackmore said: "The Lancaster Award will be invaluable when applying for a job because it provides real experience and preparation for the personal skills analysis, job application and interview process that all job applicants will go through when applying for jobs."
CEEC has already won praise from the Association of Graduate Careers Advisory Services (AGCAS) for its innovative projects to increase the employability of Lancaster graduates.
Its "Insight to Teaching and Enterprise" placement programme was runner-up in the AGCAS Awards for Excellence for Innovation and CEEC also took second and third place for the AGCAS Awards for Excellence in the "Employer Award for Work-related Learning" category for its UNITE SME placement scheme and work-related learning partnership with PepsiCo International.
There has also been recognition from the business sector with the placing of CEEC's Nucleargraduates scheme at 72nd in The Times Top 100 Graduate Employers 2009-10 - the highest new entrant.
The latest copy of Futures (the University's magazine dedicated to careers, employability and personal development) provides more information on these achievements and more initiatives introduced for this academic year:
http://www.lancs.ac.uk/sbs/ceec/download/Futures/Futures-Michaelmas09.pdf
Meanwhile, the Lancaster University Volunteering Unit (LUVU) is enabling students to develop work-related skills through community volunteering. With its partner organisation Create, which encourages students to become entrepreneurs, LUVU was last year awarded the title of the National Council for Work Experience's 'Work Experience Provider of the Year.'
The Manager of NCWE commented "Lancaster University Volunteering Unit demonstrated a high quality programme that enabled students to learn from a wealth of experiences and thrive on the responsibility invested in them."
This academic year alone, LUVU has enabled 450 students to deliver initiatives that have made a real difference to the lives of 5,500 young people across Lancashire.