Performance Opportunity for Local Residents
09/11/2009 10:03:35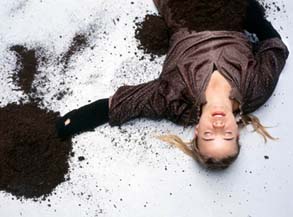 A2 performance company
A performance involving 40 local residents has been commissioned by the Nuffield Theatre, part of Lancaster Institute for the Contemporary Arts, to take place in the Storey Gallery in Lancaster.
Performance company A2 is looking for 40 volunteers of all ages and backgrounds to take part in workshops that will lead towards two public gallery performances at the Storey Creative Industries Centre on October 23rd and 24th.
The workshops will explore the interrelationship between living and dying as the participants work towards creating a performance, entitled "The Future of Death / part 5", in which people create a large-scale living sculpture by gradually burying each other with earth.
The performance company A2 began by meeting terminally ill people in Paris to discover how dying changed their outlook on life and how this knowledge can be put into practice in our lives. The work was first presented at the Institute of Contemporary Arts in London and has since been recreated in Vienna – part 2, Ljubljana – part 3 & Dortmund – part 4.
Director of Public Arts, Matt Fenton, said "A2 are known internationally for creating beautiful and moving performances, often working with untrained performers. This piece is a gentle exploration of our relationship to death and to each other, and it's really exciting to see it come to Lancaster featuring local residents who may not have performed before".
A Taster Workshop takes place from 10am to 1pm on the 26th September, and selected participants will be asked to attend workshops from 11th - 22nd October (times flexible according to availability of participants) leading up to the two performances on 23rd & 24th October 2009.
Anyone interested in this project can apply. To take part in the taster workshop, please send a sentence about why you'd like to be involved, a photo and/or self-description & contact details to:
A2 PROJECT Nuffield Theatre, Lancaster University, Lancaster, LA1 4YW or email alice@nuffieldtheatre.com
You can also call Alice or Rachel on 01524 592994 and see www.nuffieldtheatre.com for more details.