Chinese Students Celebrate Beijing Olympics
08/12/2008 12:17:26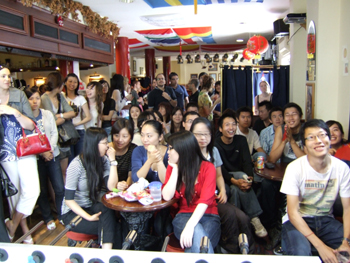 enjoying watching the Olympics live on TV in the Grad Bar
Chinese students at Lancaster University say a college event to show the Beijing Olympics on TV has kept them in touch with home.
Many of the 228 Chinese students at Graduate College crowded into the college bar to watch the opening ceremony live on two huge TV screens. The event was followed by an outdoor buffet and the Grad Olympics including a 3 legged race and spoon race.
Chun Lin, who is studying for a PhD in Environmental Science, said: "Watching this on TV is the next best thing because if I was in China I would have gone to the Games. Some students can feel homesick so it's good to get together and share in this huge event. This is a great opportunity for China to show itself to the world and the chance for Chinese and people here to come together."
Olive Su who is taking an MRes in Human Computing Interaction said she would have been at the Olympics if she had gone home for the summer.
"A lot of my friends in China are going to the Olympics and I could have been among the performers because they were asking for people to volunteer before I left the country. But I can't go home because I have to study so it's nice that the Grad bar have put this on so I haven't missed it completely. I can feel like I'm taking part with lots of other people."
The students were among a billion people worldwide estimated to have watched the opening ceremony, which included 10,000 performers in a dramatic display of dancing, music and fireworks. The choreographed show took seven years to plan and is estimated to have cost £2bn. Film director Zhang Yimou was charged with portraying 5,000 years of Chinese history in one show held before an audience of 90,000 people at the Bird's Nest Stadium in Beijing.
The Principal of Graduate College Jo Hardman said: "The Olympics are such a huge event that we thought it would be a good idea to try to involve Chinese students."
The Vice Principal Dr Paul Dolby agreed.
"Graduate students have to study over the summer and with campus so quiet, we wanted to give them something to celebrate and to show how much we support our international students."
College Administrator Jane Hulland said: "This has brought everyone together as a community and shown that university isn't just about studying."