Students Help Pupils Save The Planet
03/30/2007 09:30:11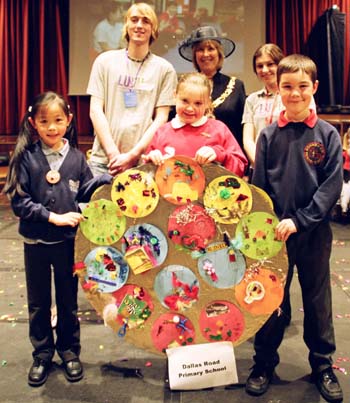 from back left: LUVU volunteer Ben Burley-Ward, Mayor of Lancaster Councillor Janie Kirkman and LUVU schools project co-ordinator Nichola Stewart with local schoolchildren. Photo courtesy of Mark Puttick
The Mayor of Lancaster has congratulated local schoolchildren on their artwork produced during an environmental awareness day at Lancaster University.
Nearly 300 primary school children visited campus for a day of art, music and drama activities organised by Lancaster University Volunteering Unit (LUVU). The event culminated in a performance in the Great Hall, where the children shared their ideas on making the world greener, showcased their artwork and performed a song about recycling.
The Mayor, Councillor Janie Kirkman, was on campus to watch the children perform and said: "It's very impressive looking at the children's artwork and it's clear they've had a lot of fun here on campus. This is a brilliant way of teaching them to think of the environment in day to day life."
The primary schools involved included Dallas Road, St Luke's at Skerton, Caton Community, West End Primary in Morecambe, the Loyne School, Bowerham, Thurnham Glasson, Hornby and Ellel St John's at Galgate.
The children designed artwork on the theme of Reduce, Re-Use and Recycle before writing a story about Larry Litter and Percy Perfect. They also made pledges to say how they were going to make changes in their own lives to make the world greener.
Shauney Fletcher, who's 11 and from West End Community Primary in Morecambe, said: "My pledge is to turn off my computer after I've used it to save energy."
Her teacher Ceri Blease said she had been impressed by LUVU's organisation of the event.
"It's fabulous to come here because we're in a deprived area of Morecambe and the children think it's all very impressive – maybe they'll come here one day as students now!"
Dallas Road pupils Patrick Collins-Price and Ellie Callender, both 9, said they had had great fun.
"We had to decorate drums made out of recycled material using tissues and feathers and we all worked together."
Their teacher Phil Brown said the event had been a success.
"They love coming onto campus and doing such a variety of events which tie in to what we're teaching in the classroom."
Lauren Burgess, who's 9 and from Skerton St Luke's said: "We had to look at what a grey world is like with pollution and what a green world would be like with flowers and plants."
Nichola Stewart, the schools project co-ordinator for LUVU, said: "This is part of our Creative Arts projects which is delivered by student volunteers who give up their free time to work with schools. This year we have a total of 115 student volunteers working on various school projects."