Are you a photologger or a photolurker?
08/25/2006 13:36:44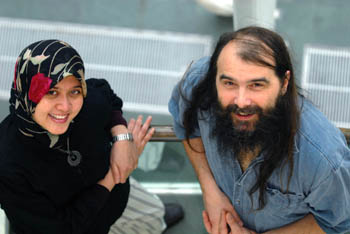 Haliyana Khalid and Professor Alan Dix
Lancaster University researchers are investigating the curious world of photolurking – a growing phenomenon thrown up by the boom in online photo albums.
Photolurkers are silent, usually anonymous visitors on photologs who flick through online albums but chose not to leave any messages behind in the optional message boards.
Where once people shared photographs with family and friends, photolog websites such as Flickr have enabled people to post up their pictures in cyberspace for the world to see. Private images have become public property and it seems we are becoming a nation of avid snoopers.
Friends and family, colleagues and exes are all seen as fair game when it comes to flicking through other people's photologs. But, according to new research, photolurkers are equally interested in photographs of people they have never met.
"Not only are people interested in looking at the photographs of people they know, but also the photographs of complete strangers. Wedding photographs for example, are very popular," said Haliyana Khalid, a Phd student in Lancaster University's Computing Department.
Early research findings show that people particularly enjoy the freedom to dip in and out of other people's photographs at their leisure as a form of relaxation or entertainment. They also enjoy looking at pictures of themselves, something which they would be less likely to do in public.
Haliyana said: "People do this for emotional kicks. Curiosity, loneliness, even jealousy are just some of the reasons people look at these images. They also like to talk about them with their friends. It can become quite obsession for some people. It isn't uncommon to find people who go onto one of these sites every day."
Haliyana, who is carrying out her research along with Lancaster University's Professor Alan Dix, is currently looking at ways in which online services can be improved to make photologs more user friendly for visitors including photolurkers.
She said: "This is still relatively new technology so we are just beginning to find out how people use these sites. We have discovered what many people want is to discus these images in a more private forum – just with their own community. We are looking at ways in which photolurkers can use an intelligent web application to 'snip' images into another forum where they can discuss them with friends."
● Research into photolurking by Professor Alan Dix and Haliyana Khalid was featured in the New Scientist last month (December 2006), and in the Daily Mail, January 22. http://www.dailymail.co.uk/pages/live/articles/technology/technology.html?in_article_id=430505&in_page_id=1965