Lancaster to train mathematical researchers of the future
01/05/2010 11:02:39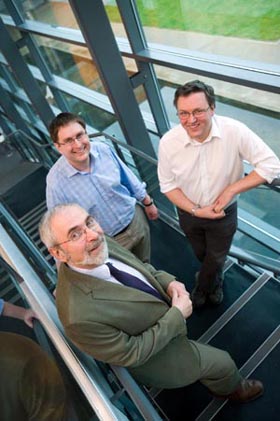 Lancaster University is launching a centre to develop a new generation of researcher working in two key areas of the mathematical sciences (Statistics and Operational Research).
The Centre for Doctoral Training will focus on Statistics and Operational Research and will impact directly on the needs of industry.
This month the Engineering and Physical Sciences Research Council (EPSRC) announced a new investment of £13 million to create three Centres for Doctoral Training at the universities of Lancaster, Cambridge and Warwick.
At Lancaster, this investment will be accompanied by substantial contributions from the university, business, industry and other organisations.
The combined £6.7M award, joint between the Departments of Mathematics and Statistics and Management Science, builds on Lancaster's long-standing commitment to Statistics and Operational Research and its leading reputation in these fields.
It is also testament to the success of recent initiatives such as the EPSRC Science and Innovation award in Operational Research (the LANCS Initiative) and the HEFCE-funded Centre for Excellence in Teaching and Learning in Postgraduate Statistics.
The centre, led by Idris Eckley, Kevin Glazebrook and Jonathan Tawn, will train at least 40 students over seven years, and will admit the first of these in October 2010.
Industrial partners, including Unilever Research, Shell Research and a number of other organisations, will be involved at every stage in delivering the four-year PhDs, providing real-world projects and experience throughout the course. These links will help to produce a new generation of highly-employable researchers working in diverse fields, ranging from banking and manufacturing to aviation and energy.
Professor Jonathan Tawn said: "We are really excited about this award. The new centre will produce a step change, training a new generation of graduates capable of producing research of high quality and with major industrial and scientific impact. Our ambition is that the centre's students will be highly employable, securing careers in leading areas of industry.
"Graduates with good Statistics and Operational Research qualifications are highly sought after and by jointly training our students with industry they will have a competitive edge."
This view is reinforced by many of the industrial partners.
Professor Matthew Reed, Global Research Leader - Advanced Measurement & Data Modelling, Unilever Research said: "Over the past few years, we have found it more and more difficult to recruit staff with both high level statistical skills and an aptitude for solving complex, commercially relevant, scientific problems.
"Having a stream of high quality post doctoral statisticians and operational researchers coming onto the job market will improve my chances of delivering sustainable competitive advantage to Unilever."