Woodland Fitness Trail Open
12/02/2010 20:24:57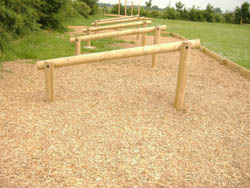 Students and staff can now make the most of 150 year old woodland surrounding campus thanks to a new trail through the campus grounds.
The 2.6 mile route includes an outdoor 'trim trail' – a series of fixed, timber exercise stations designed to improve cardio vascular fitness and test upper and lower body muscular strength.
Originally planted in 1841 as sporting woodland for The Bigforth Estate, sections of the wood were not previously easily accessible. The new trail now provides a challenging circuit for people of all fitness abilities, from serious athletes to people looking for a quick study break and a breath of fresh air.
Gated entrances, clear signposting, board walks and wooden steps mean that most people can complete the entire walk in around 1.5 hours but for those needing to squeeze a bit of exercise in between lectures or over lunch then there are plenty of clearly signed exit and entry points.
The woodland is an important habitat for plant and animal life, including 120 bird species and three bat species; people using the trail might even catch sight of some of the Roe Deer which visit from time to time. Further woodland improvements such as additional tree planting, managing invasive Rhododendron and other habitat improvements have already begun as part of a 10 year Management Plan to continue to enable the woodlands to develop.
The woodland trail is part of Lancaster University's £300m campus development which has transformed the original 1960s fabric of the University by investing in new teaching, residential and social facilities for students and building world-class academic centres.
It is just one of the measures the University is taking to invest in student and staff health and wellbeing.
Other projects include the £20m sports centre, expected to open in summer 2011, including a 25 metre, eight-lane Swimming Pool, Climbing Wall and Bouldering Cave, Gym, Sauna and Steam room and sports hall with eight badminton courts and four squash courts.
Professor Amanda Chetwynd, Pro-Vice-Chancellor for colleges and the student experience said: "We are exceptionally fortunate to have such beautiful woodland and surrounding parkland on our doorstep here at Lancaster. We are working on a number of projects as part of our Healthy Campus initiative and encouraging students and staff to take a break from their work is an important part of that.
"This project has opened up new areas of University grounds for the first time giving people better access to their campus, and hopefully encouraging more of us to make the most out of it.
"The important thing is this woodland trail is designed for all levels of fitness, whether you want to do a five mile run stopping at exercise stations along the way or just go for a leisurely stroll. I really hope people enjoy exploring the trail."