Lancaster Environment Centre launched
07/22/2004 13:34:27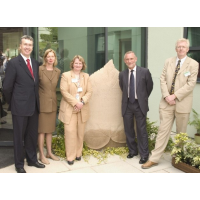 One of the largest environmental research centres in Europe has been launched at Lancaster University providing a key facility in the quest to sustain the planet.
The £25 million Lancaster Environment Centre brings together around 300 researchers and lecturers, all working to find solutions to major environmental problems from tracking pollutants to generating sustainable energy.
This joint venture between the Natural Environment Research Council's Centre for Ecology and Hydrology and Lancaster University is housed in a state-of-the-art building on the University campus. It provides cutting-edge equipment and controlled environment facilities for the scientists who work there.
The centre is already producing excellent research. For example, scientists have helped to develop a new irrigation system that could reduce agricultural consumption of water by more than 50 per cent, and they are managing and restoring areas that have been affected by radioactive contamination.
Speaking at LEC's launch Lancaster University Vice Chancellor Professor Paul Wellings said: "This is a very special moment here at Lancaster, not just for the University but also for CEH. Environmental research goes right back to our University's foundations 40 years ago. Now with the opening of LEC we have created one of the largest centres of its kind in Europe but that is not enough - we want to ensure we are one of the finest centres in Europe."
He said LEC would aim to focus on excellence both in research and training and to engage with enterprise and entrepreneurship in environmental science.
"If we can do both of those things we should be able to look back in ten years time and say this is a great centre."
Prof John Lawton, Chief Executive of NERC, said environmentalists were faced with the challenging task of steering a sustainable path for the planet earth and LEC had its part to play.
"It is that bringing together of skills that sets this centre out as being unique – potentially a major player in the search for a sustainable planet."
Both the University of Lancaster and the Centre for Ecology and Hydrology have world-class reputations in the field of environmental science.
Professor Lawton said: "Right now the work they do is more important than ever before."
Photograph caption: L - R
Vice-Chancellor, Professor Paul Wellings, Professor Pat Nuttall, Director of CEH, Dr Brenda Howard, Co-Director of LEC, Professor John Lawton, Chief Executive of NERC and Professor Bill Davies, Co-Director of LEC