"Between the Devil And The Deep Blue Sea" at the Nuffield
10/17/2008 10:02:29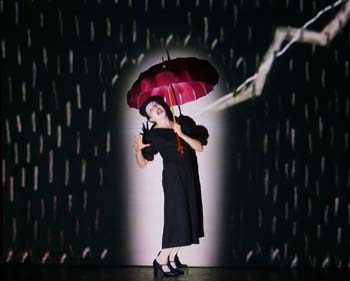 Between The Devil And The Deep Blue Sea
One of the most talked about productions at the Edinburgh Fringe 2007 - the multiple-award-winning Between The Devil And The Deep Blue Sea- is coming to The Nuffield Theatre at Lancaster University.
Fresh from a world tour that took them to Sri Lanka, Singapore, New York and Australia, this stunning debut by multi disciplinary company 1927 features a series of comic scenes in which live performers interact seamlessly with animation and film. Hapless cats, gun-toting gingerbread men and cross-dressing devils all make an appearance in a strangely beautiful mix of fractured fairy tales.
Blending silent film, live music, performance and storytelling, 1927 take their audience on a hilariously funny, surreal journey through an enchanting, skewed and sinister world. It's a deadly little Hallowe'en treat...
'Perfectly timed, funny and gorgeous... Talent spotters take note: there's a frighteningly gifted new British theatre company on the scene' –The Times
BETWEEN THE DEVIL AND THE DEEP BLUE SEA by theatre company 1927
8pm Monday 27th October
£10 / £7
www.nuffieldtheatre.com boxoffice@nuffieldtheatre.com
Tel: 01524 594151