Boost for Chinese Students Studying the Environment
06/17/2005 10:16:31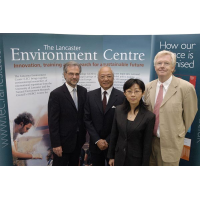 Chinese students studying Science at Lancaster University could be in line for a helping hand thanks to a new bursary.
Dr Lee Kai Hung, who runs a foundation for Chinese students studying in the UK, has made two bursaries available to Chinese students studying in departments allied to the Lancaster Environment Centre. The £1,000 bursaries will be awarded each year to two students who are studying for master degrees with an environmental theme at the University.
Meanwhile Lancaster University has agreed to back an international environmental essay writing competition run by the Lee Kai Hung Foundation. The essay competition is open to Chinese students across the world. Lancaster University has sponsored one of the prizes and will be involved in judging the competition.
This week Dr Lee Kai Hung visited the University's Lancaster Environment Centre which brings together more than together more than 300 environmental researchers from Lancaster University and the Natural Environment Research Council's (NERC) Centre for Ecology and Hydrology to form one of the largest groups of its kind anywhere in Europe.
Dr Lee Kai Hung said: "The success of the Four Modernisations programme in China can not be sustained long term without the support of the environmental contribution. It is plain to see that whoever takes up the challenge of environmental natural sciences will be assured not only a successful career but also a great sense of fulfilment of doing some good to society."
Professor Trevor McMillan, Dean of Lancaster University's Institute for Environmental and Natural Sciences, said: "We are delighted that the Lee Kai Hung Foundation has made this generous offer to Lancaster University students. Environmental issues are becoming increasingly important in China and as such the foundation has chosen to support students who may make a future contribution to our knowledge and understanding of this field."
Photograph Caption: L - R Professor Trevor McMillan, Lancaster University, Dean of the Institute of Environmental and Natural Sciences, Dr Lee Kai Hung and Amy Liu, The Lee Kai Hung Foundation, Professor Bill Davies, Lancaster University, Lancaster Environment Centre.