Lancaster student makes global news
08/17/2004 09:35:17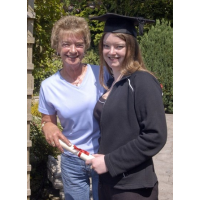 A student who lost 21 years of her memory to Encephalitis has made global headlines after being awarded a psychology degree from Lancaster University.
As previously reported in LU news, Leanne Walker, now 23, turned tables on fate by fighting her way back from her illness to study her own experience of memory loss in a top-rated academic department.
Since the story was released Leanne has appeared in more than 40 national and regional newspapers, magazines. She has also appeared on television and radio - including the World Service.
In many of her interviews Leanne gave credit to both her parents and Lancaster University tutors who helped ease her way back into learning.
Lancaster University press office has been inundated with interest in her story and has forwarded messages of support to her from members of the public including a well-wisher in India.