Showcasing developments at the coalface of Micro & Nanosystems
09/17/2007 15:28:02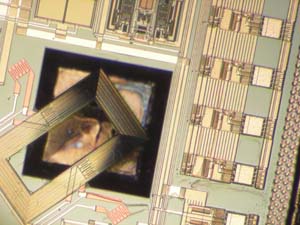 An example of an integrated microsystem. The device targets the next generation of mobile phones that feature an integrated compass. Picture courtesy of the University Montpellier
Lancaster University is hosting an international event showcasing research and developments at the forefront of Micro and Nanosystems Engineering.
Micro and Nanosystems, together with the associated technological processes, could fuel the next industrial revolution, potentially replacing conventional systems with cheaper, more effective alternatives.
Microsystems enable exceedingly small objects – those with dimensions in the range of a thousandth of a metre – to be integrated into miniature platforms that include silicon chips.
Microsystems Engineers are now working towards the design and manufacture of platforms able to integrate devices with even smaller dimensions - from the size of molecules up to 100s of nanometres.
This will open the door to advances in diverse areas from molecular sensors for bio-medical and pharmaceutical applications to the next generation data storage devices.
Despite significant market expectations for a vast area of applications, many microsystems still face key manufacturing challenges in guaranteeing stability, robustness and associated reliability within the target working environment.
The four day showcase (sponsored by the European Network of Excellence in Design for Micro & Nano Manufacture and the Europractice Technology Access Initiative INTEGRAMplus) will address both technical advances and commercialisation issues in this critically important field.
The event encompasses major research organisations from across Europe and aims to provide delegates with:
• A forum to assess advances in the Micro and Nanosystems field and learn about opportunities for uptake.
• Awareness of new funding opportunities.
• Solutions for accessing technologies, engineering services and business support; on both the academic and the industrial level.
Director of Lancaster University Centre for Microsystems Engineering, Professor Andrew Richardson, said: "The Micro & Nano Technology community has delivered some exciting advances over the past few years, the challenge for the engineering community is to build these advances into manufacturable systems that can provide added value to society.
"It is a major coup for Lancaster to be hosting an event of this profile."
'Design, Test & Manufacturing Technologies for Integrated Micro and Nano Systems' runs from October 1 to 4th at Lancaster House, Lancaster.
To register please complete the registration form available on-line at:www.engineering.lancs.ac.uk/microsystems. For further information please contact Tina Warren, LancasterUniversity, LA1 4YR UK on 01524 592444.
Email: t.warren@lancaster.ac.uk