The Guardian ranks Lancaster in top ten of UK universities
05/17/2011 00:00:00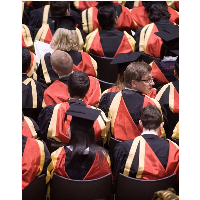 Lancaster University is ranked 7th out of 120 institutions in the UK in The Guardian University Guide 2012. The Guide is designed to help students pick a course for 2012 and ranks universities according to teaching excellence. 88% of students were satisfied with teaching at Lancaster while 87% were satisfied overall.
Universities are ranked on everything from student/staff ratio, the career prospects of graduates, what grades applicants need and how content final year students are with their courses, based on the annual National Student Survey.
The tables, compiled by an independent consultancy firm, Intelligent Metrix, are weighted in favour of the National Student Survey. As part of the survey, final-year students are asked to score their universities for overall satisfaction, feedback and contact hours. http://www.guardian.co.uk/education/table/2011/may/17/university-league-table-2012
The Guardian said: "Students will want to feel confident of choosing a university where they feel the experience is worth the money. Our University Guide measures how well institutions perform at the things that really matter to new students."
Lancaster University also scored highly in the Guide's individual subject rankings: Physics and Geography & Environmental Sciences were both ranked 4th; Mechanical Engineering 5th; Mathematics and Sociology both 6th; Religious Studies & Theology 8th; Art & Design 9th; Education, Business & Management Studies both 10th; Law, Computer Science & IT, Media Studies, Communications & Librarianship all 11th; Drama & Dance 14th; and Social Work 15th.

This latest high ranking follows another recent survey, The Complete University Guide 2012, which ranked Lancaster 9th in the UK and top in the North West out of more than a hundred universities. The Complete University Guide looked at everything from student satisfaction to student staff ratio and employment prospects after graduation.