Arts Events
09/30/2008 14:14:43

Lancaster International Concert Series
4 December 7.30pm

BBC Philharmonic: Tchaikovsky conducted by Vasily Sinaisky
The ever popular BBC Philharmonic makes a welcome return to Lancaster International Concert Series under the baton of their charismatic Russian Chief Guest Conductor, Vasily Sinaisky, on Thursday 4 December with an all -Tchaikovsky programme.
Despite Tchaikovsky's own concerns at the time of writing Symphony No.5 it has gone on to become one of his most popular and enduring works – an epic, ultimately blazing triumph over fate. To complete the programme, the enchanting Prologue and Act 1 from the finest of Tchaikovsky's three ballet scores, The Sleeping Beauty, compliments his awe-inspiring symphony.
Speaking about the concert, Tim Williams, Director of Lancaster International Concert Series said:
"We're delighted to welcome back the BBC Philharmonic whose performances of Tchaikovsky's orchestral works are guaranteed to contain the essential Slavic style and character under the compelling direction of Vasily Sinaisky."
Tickets: £18.50, £15.50 £12.50 (£15.00, £13.00, £10.50 concessions),
£6 Young person. Box Office and Booking Enquiries t: 01524 594151, Booking online at: www.lancasterconcerts.co.uk


LEC Art Exhibition

17 November – 18 January

Boughdown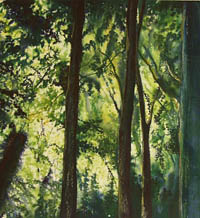 Eaves Wood Spring - Copyright Kate Bentley
A forest of paintings by Kate Bentley on display in the main LEC atrium from November 17th to Janauary 18th

Nuffield Theatre Presentations


2 & 3 December, 8.00pm

The Pilots
Reckless Sleepers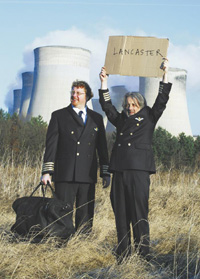 The Pilots
Two men are pretending to be pilots. Two men are pretending to be George Michael and Andrew Ridgely in the Club Tropicana video pretending to be pilots. Two men are pretending to know what they're doing.The Pilots follows a flight path from arrival to departure on a journey into uncharted territory. Reckless Sleepers mark 20 years of cutting edge contemporary performance by going back to the beginning. A theatre. An audience. Two men pretending to be pilots.
Somewhere between a rehearsal and a re-enactment we find two men, two ladders, two laptops, two microphones and two speakers. Trying to work out where they are in the world and on the page, Reckless Sleepers ask how you spell Dr. Zhivago, how you dance to David Bowie, how you rig a lantern, and how you write a Dear John letter?
Trying to find out who they are, where they are in the world and on the page and what their motivation is, The Pilots is Reckless Sleepers 10th touring show and continues to challenge theatrical convention.

Tickets: £10.00, £7.00

*********************

8 & 9 December, 8.00pm

Trevor Goose and his dark night of lights
Talking Birds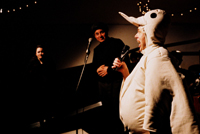 Talking Birds
IS IT A GIG? IS IT A PANTO?? IS IT A MISJUDGED DANISH CABARET???

Well it's all three, and this December, pioneering theatre company Talking Birds come to the Nuffield, Lancaster with a funny, musical, slightly chaotic Christmas show for those who like their seasonal fare skewed and a little bit heartbreaking

Trevor Goose and his Dark Night of Lights attempts to tell the story of The Little Matchgirl, but internal difficulties with the band - Hans Christian and the Andersons – as well as with a Danish tourism officer and a missing celebrity mean the evening soon turns into a painfully amusing spectacle as the cabaret comes face to face with it's own dark failings.
The music is divine, boasting a fully feathered live band – led by composer Derek Nisbet – and they'll rip off a series of exhilarating numbers throughout the show. The performance also features a small, but crucial role performed by a specially cast local performer, who will play the part of the mother of one of the band members.

Some shows like to be seen as an antidote to Christmas shows, but who wants an antidote when the venom is this much pleasure?
£12 / £10
www.nuffieldtheatre.com boxoffice@nuffieldtheatre.com, Tel: 01524594151

Library Exhibition

19 September – 19 December
John Milton 1608-1674
An exhibition to celebrate the 400th Anniversary of John Milton's Birth.

A Floor Purple Zone. For opening times telephone 01524 592517
Or see http://libweb.lancs.ac.uk/open.htm

---
Art of China

Peter Scott Gallery, LICA
11 November – 9 December 2008
This exhibition presents Chinese paintings from the Peter Scott Gallery Trust Collection at Lancaster University, collected by the late Professor Irène Manton F.R.S. (1904 – 1988). Professor Manton was an eminent scientist and an Honorary Research Fellow in Electron Microscopy at Lancaster University. She had a strong interest in visual art, and over the years built up a diverse collection of paintings and prints by artists from across the globe.
Professor Manton's interest in Chinese art dated from 1935 when she visited an exhibition of Chinese Art at the Royal Academy in London. As a scientist, she was particularly interested in the detailed studies of nature produced by Chinese artists.This exhibition brings together examples of traditional fan and scroll paintings, alongside a selection of watercolour paintings focussing on the natural world of plants, flowers and insects.
Also on display are works by seven contemporary Chinese printmakers: Chen Qi, Lu Zhiping, He Kun, Zhou Jirong, Su Xinping, Tang Chenghua and Zhang Guanghui. These works are shown in association with MIRIAD at Manchester Metropolitan University. The artists teach printmaking at art academies in different regions of China and practice printmaking within different media. They also work as a group called the China Printmaking Art Studios' Alliance. The aim of their group is to share information and ideas as a network and to promote printmaking in order to make a stronger case for the support and appreciation of this art form. The prints date from the 1990s until 2006, and show various techniques such as woodcut, etching, lithography and screen-printing.
Open during exhibitions: Tues – Fri 11am – 4pm & late Thurs 11am – 9pm
Free Admission
Peter Scott Gallery, Great Hall Complex, LICA, Lancaster University, LA1 4YW
Tel: 01524 593057 www.peterscottgallery.com