Honorary Degrees 2010
07/14/2010 00:00:00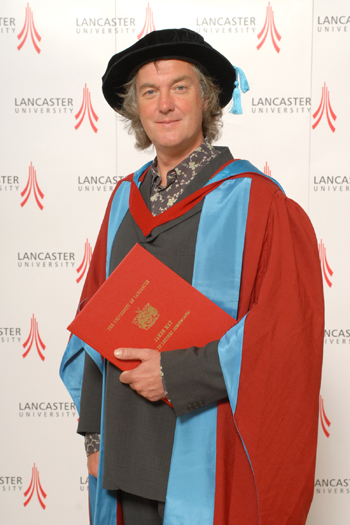 James May
The presenter of Top Gear James May and renowned broadcaster Dame Joan Bakewell DBE are among five people distinguished in their field who were awarded honorary degrees at the July ceremonies.
The others included the President of the British Medical Association Professor Averil Mansfield CBE, distinguished scientist Professor Kang Shaozhong and Edwin Booth, the head of the regional supermarket chain.
Most of them have connections with the North West: James May is an alumnus of Lancaster University while Dame Joan Bakewell, Professor Mansfield and Edwin Booth are all from the region.
James May [for DLitt]
James May is an award-winning British television presenter and journalist, and a graduate of Lancaster University. He is best known as co-presenter of the motoring programme Top Gear, and he has also presented a variety of other programmes, including James May on the Moon, James May's 20th Century and James May's Big Ideas.
May has written articles for several publications, including CAR Magazine and Top Gear Magazine, as well as a weekly column in The Daily Telegraph. In 2000 he won the Guild of Motoring Writers Journalist of the Year award.
A keen flautist and pianist, James May studied music at Lancaster University, where he was a member of Pendle College.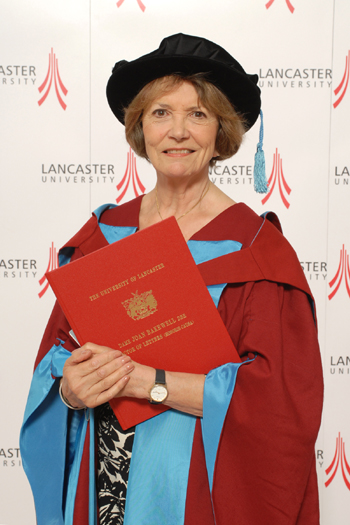 Dame Joan Bakewell
Dame Joan Bakewell [For DLitt]
Joan Bakewell, who was born in Stockport, is one of Britain's leading journalists and commentators. She came to prominence in the late sixties as the presenter of the pioneering BBC 2 arts programme Late Night Line-Up. She was later BBC Newsnight's arts correspondent from 1986 to 1988 before presenting the documentary and discussion series Heart of the Matter, which ran until 2000. She is also a newspaper columnist.
She was appointed CBE in 1999 and DBE in the Queen's Birthday Honours 2008. She was Chairman of the British Film Institute from 2000 to 2002 and in 2008 was appointed a voice for older people by the Government.
She was nominated for an Honorary Doctorate for her work toward raising the profile of age equality issues and encouraging public debate.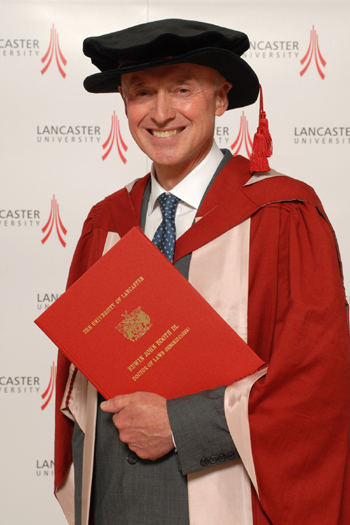 Edwin Booth
Edwin Booth [For LLD]
Edwin Booth is the Executive Chairman of E. H. Booth and Co Ltd, founded in 1847 by Edwin Henry Booth and owned by the Booths family every since. Under Edwin Booth's leadership, the regional supermarket chain has expanded greatly and the company currently employs over 3000 staff in its 26 branches. In 2006 Booths achieved second place in the list of the World's Greatest Food Retailers by a panel of experts assembled by the national trade publication The Grocer.
In 2005, Edwin Booth was awarded the Business in the Community (BITC) Prince of Wales Ambassador Award for the North West, in recognition of his leadership and positive impact on the community. The following year, he was appointed Chairman of the National Independent Supermarket Association. In 2007 he was Chair of BITC's The Prince's Seeing is Believing Alumni North West Board.
His honorary degree recognises the achievements of a highly successful local businessman whose career embodies the skills and values necessary for success in a highly competitive commercial environment.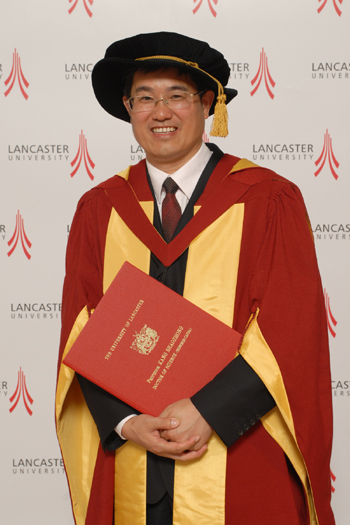 Professor Kang Shaozhong
Professor Kang Shaozhong [for DSc]
Professor Kang Shaozhong is a leading researcher into the pressing issue of global food security. He is the Director of Centre for Agricultural Water Research in China, and a Distinguished Professor at the China Agricultural University.
Kang Shaozhong is a very high profile scientist in China and is a member of the Government committee currently writing China's five year plan for agriculture. His research focuses on finding ways to use water more effectively in agriculture to deliver food security for people in China's most water scarce regions.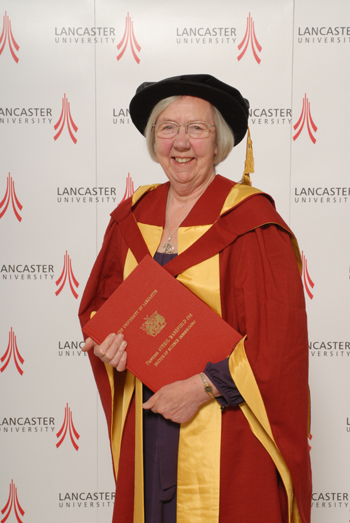 Professor Averil Mansfield CBE
Professor Averil Mansfield[for DSc]
Professor Averil Mansfield is President of the British Medical Association and the first female Professor of Surgery in the UK.
She was educated at Blackpool Collegiate School before taking a medical degree at Liverpool University in 1960. She also holds a Masters in Surgery in 1972. She is a Fellow of the Royal College of Physicians and of the Royal College of Surgeons.
She was a consultant vascular surgeon at the Royal Liverpool Hospital from 1972-1980 before moving to St Mary's Hospital, part of Imperial College London. She became a Professor of Surgery at the hospital in 1993. Professor Mansfield established a new initiative at the Royal College of Surgeons designed to encourage women into surgery.