First Class women score hat trick in Computing
09/12/2007 16:28:07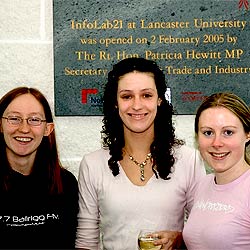 Sara Bury, Rachel Burrows and Emily Griffiths
All the women graduating from the Computing Department this year succeeded with First Class honours degrees.
Of 36 students only three were women but all three, Emily Griffiths, Sara Bury and Rachel Burrows were among the ten students who achieved a first.
Emily Griffiths said: "Lancaster has been great, and I'm still excited about my 1st. Now I'm in the front of the queue for jobs all round the world. The thing I enjoyed most about Computing was the amount of practical and hands-on experience I gained."
Sara Bury added: "The choice to study Computer Science at Lancaster was one of the best decisions I've made. The University has an excellent social environment and I've been heavily involved with the student radio station Bailrigg FM, but more importantly I've really enjoyed both the level and choice of courses available within the Computing Department, from networking and concurrent programming to embedded systems.
"My ultimate aim has always been to move on to further academic study and my degree from Lancaster has given me an excellent grounding. I've been awarded a Studentship to continue onto the MSc in Advanced Computer Science and I'm hoping to remain at Lancaster, moving onto PhD research in the future."
Rachel Burrows said: "I've really enjoyed my last three years at Lancaster, the course structure offers a wide range of core subjects which has given me a good grounding to continue my studies towards a PhD next year within the department.
"I particularly enjoyed the experience I gained from the lab sessions as it gave me lots of exposure to key technologies.
"The course structure is flexible, allowing me to specialise in certain topics which I was interested in and would help me fulfil my future career goals. Alongside the studies, the support available from the department -and its great reputation within industry- has provided me with many employment opportunities."