Art Exhibition At LEC
07/03/2009 11:46:05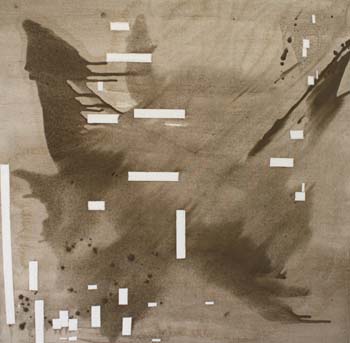 Part of the art exhibition at LEC
Art meets science with an exhibition at the Lancaster Environment Centre created using graphs painted onto canvas.
Carla Nizzola is an MA Contemporary Arts student at LICA as well as a commissioned artist. Her exhibition comprising a dozen canvases entitled "Shift Your Point of View A Bit…" is in the atrium of LEC until September 1st.
She said it is important to her to have an art exhibition in LEC.

"It not only raises an awareness of the environment, but gives people a new understanding and perception of landscape. I think it is important to blur the boundaries between science and art - both are in fact quite similar."
Her work portrays an abstract representation of a personal investigation of the changing tides, objects and sediments collected from Sunderland Point, Glasson Dock, Heysham, Bolton-le-Sands, Silverdale, Carnforth and Arnside. Through photography, drawing, writing and painting, she recorded data and samples collected from inside a 6m square grid set up on the beach before tracing a graph based on these measurements. This became the basis for the canvas.
"By scraping into, re-painting and adding layers I create the illusion of these abstracted forms of collected sediment moving across the canvas as though the tide has swept them ashore. I exhale my experiences onto each canvas."
She said she has always been intrigued by the coastline.
"The Lancashire Coast is particularly interesting to me because it is dominated by its tidal processes that are forever changing, moving and washing things away. Being a frequent visitor to this coastline, I wished to experience it in new ways, creating a new personal perception of the landscape by adapting different processes of gathering visual information - processes that are alien to me as an artist."