LEC Hosts First Coastal Conference
04/17/2009 16:09:50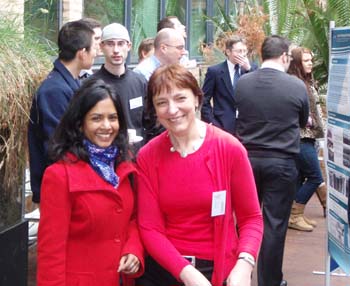 Yohama Gunawardem and Dr Suzana Ilic at the conference
Lancaster Environment Centre has played host to the Young Coastal Scientists and Engineers Conference for the first time. Around fifty young researchers attended the conference, which aims to bring together postgraduate students and postdoctoral researchers as well as junior researchers in government agencies and consultancies.
This is the fifth year of the conference but the first time it has been hosted by Lancaster University. The aim is to promote an integrated UK coastal research community and encourage an exchange of ideas between young researchers; this attracts other students and researchers from as far afield as Croatia and Italy.
Prizes were awarded for the best presentation and poster, and Professor Jonathan Tawn from the Department of Mathematics and Statistics gave a keynote lecture on the role of statistics in coastal processes research.
Dr Suzana Ilic from the Geography Division at LEC, who is a member of the conference steering committee and the organizer of this year's event said: "Lancaster University is in a perfect position for coastal research. We're at the edge of Morecambe Bay, a site of extraordinary natural dynamics that provides a perfect environment for studies of interaction between flow, sediment and ecology systems. Hence our conference fieldtrip is to Silverdale and Arnside. This is a great opportunity to bring all UK PhD students together so they can exchange experiences and network, creating the basis for research for the future."
Yohama Gunawardem completed her PhD at Lancaster before moving into environmental consultancy.
She said: "I've been to other coastal conferences but this one is special because it's nice to come back to Lancaster. It's very useful for networking to meet other people from previous conferences and find out what they're all working on."
Previous conferences have been held at Nottingham, Southampton, Plymouth and Oxford Universities.
http://www.lec.lancs.ac.uk/research/LU_themes/young_coastal.php