School pupils get a taste of science and technology at Lancaster University
07/06/2006 08:38:00
More than a hundred and fifty school pupils got a taste of life as science and technology students at Lancaster University's annual taster day.
The teenagers from eleven schools across the north-west began the day with a campus tour before taking part in hands-on demonstrations in labs and workshops.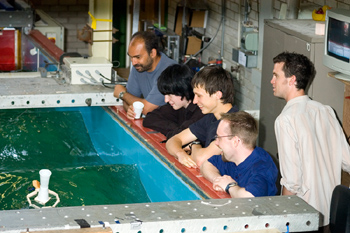 School pupils designing and testing a floating device which would support a glass of water in a wave tank
The taster day was aimed at showing students what life is like at university and to show the range of degrees which Lancaster has to offer.
Departments ranging from Computing to Engineering took part in the event, which was organised by Dr Alan Darragh, science partnership officer for the university. He said: "I hope that the experience will encourage the students to continue in the science and technology field and help them when deciding on applying for courses at University."
Fourteen pupils from Blackpool Sixth Form College attended the taster day. Their computing teacher Peter Tooth said: "We've been coming here for three years running and it's really useful because it makes university seem less scary, less daunting. As well as being a good university, Lancaster is close to Blackpool and we tell them they might be able to commute here and save on living costs."
One of his pupils, Fiona Donaldson, who's 17, wants to be a computer programmer. She said: "Coming here tells you a lot about university and I've been doing a computer animation which I've got a lot out of."
In the Engineering Department, pupils were given the task of designing and testing a floating device which would support a glass of water in a wave tank.
17 year old Matthew Hill from Appleby Grammar School said: "University is much more informal and less intense than I thought and I definitely want to come here now I've seen the racing car project!"
Awais Qureshi from Parrs Wood Technology College in Manchester said: "I'm surprised by all the shops and everything on campus and it's not dull like I thought it would be. I think I prefer a campus university now I've seen it rather than being a student in a big city."
Among the teachers at the taster day was Lancaster graduate Chris Rowbotham, now a maths teacher at Dallam School in Milnthorpe. He said: "It's nice for the pupils to see a local university and experience it in such a positive way."
Other schools taking part included Lytham St Annes High School, Millom School and Kirkbie Kendal in Cumbria, Bury Girls Grammar School, King George the fifth College in Southport, and two high schools in Cheshire.