Lancaster Wins Roses Competition
04/29/2010 14:15:53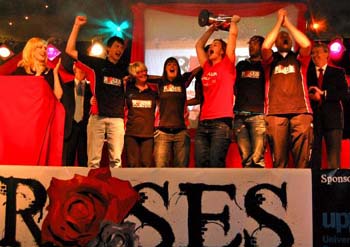 Lancaster celebrate winning the Carter James trophy;photo by Laura Clark
Lancaster University has triumphed in the annual battle of the Roses sporting challenge against York University, winning by 52 points. The overall Score was 157.5 points for Lancaster to York's 105.5. The result sees the Carter James trophy back at Lancaster after being won by York for the past three years.
The two historic rivals have entered into a sporting contest every year since 1964, alternating between York and Lancaster.
LUSU's Vice President (Sports) Sue Wynes said: "It has been absolutely brilliant. We started off well on Friday which was absolutely fantastic as we got a good lead then but obviously nothing is guaranteed. The teams pulled out all the stops and I am so proud of every single one of them. When we finally got those extra points from the canoe slalom to ensure victory that was the highlight for me."
Now boasting more than 100 different fixtures, nearly 1,500 athletes and around 5,000 spectators each year, Roses has grown to be one of the most popular sporting events in northern England and one of the biggest inter varsity competitions in the UK.
Thousands of athletes and spectators flocked to the campus for the three-day contest hosted by Lancaster University, featuring sports from hockey and cricket to canoeing and American football.
The weekend began on Thursday with Men's Cricket at Lancaster Cricket Ground. It was an incredibly close match which only ended in the very last over, when York just managed to reach the winning score. All matches over the weekend were closely contested, however Lancaster already began building up a good lead on the Friday after a clean sweep of all the bar sports, winning 16 out of 16 points available.
Lancaster continued their lead on Saturday after winning all but one of all the indoor football matches and all of the outdoor football matches. Lancaster Fencing Club also enjoyed two great victories for both Men and Women, despite being the underdogs against a York side made up of international level fencers.
On Sunday, all eyes were on Lancaster who were just 6 points away from the winning margin. After a closely contested Women's Volleyball match in which Lancaster triumphed, it was announced that Lancaster had won both the Men's and Women's Canoe Slaloms which brought a crucial 4 points. Lancaster continued to extend the lead throughout the day with some excellent performances to take Lancaster to the well deserved victory in the Roses competition.
Alisdair Denholm, LUSU Activities Developer, who has been involved in organising the event, said: "The support throughout the event has been fantastic so everyone has been in high spirits which is what it's all about. It's about getting the whole university, not just those playing, but getting all students together and everybody fighting together to win the competition".