Environmental Science Student Scoops Award
04/07/2006 12:02:33
A Lancaster University student has met the Prime Minister after winning the North West round of the prestigious British Council International Student Awards.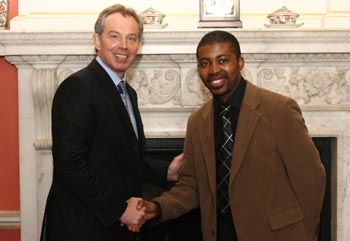 Nigerian-born Akanimo Odon, a PhD student in Environmental Science, was one of only 12 students selected as national finalists from more than 2,000 entries nationwide for the British Council 'Shine' awards.
On Tuesday, April 18, he met the Prime Minister, Tony Blair, at a high-profile event at Number 10 Downing Street where the UK Government is launching a new international education strategy.
He will also attend an award winners' ceremony at the British Academy of Film and Television Arts in London on April 27th where he will be presented with £1,000 and a commemorative trophy. The overall winner will also be announced on the night and this student will receive an additional £1,000.
Now in its fourth year, the awards scheme recognises international students who are getting the most out of their UK experience by asking them to submit a 'letter home' in which they describe their impressions and experiences of the UK.
The 26-year-old was selected by judges after writing a letter addressed to his uncle in which he describes some of his many achievements and interests which range from poetry writing to care work.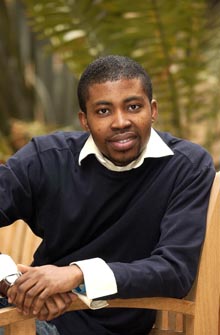 Akanimo Odon
Akanimo graduated with First Class honours in zoology from University of Benin, Nigeria, before securing a scholarship to do a Masters degree in Environmental Rehabilitation at the University of Wales, Aberystwyth. He is now in his second year studying for a PhD at the Lancaster Environment Centre.
Last year he published his first book of poetry Rhymes from the Heart (available from Waterstones and Amazon.co.uk) which won an International Library of Poetry Editor's Choice Award in December 05. He has since finished his first novel manuscript A Pain to Love and is in the process of looking for an agent. He also works two shifts a week in Morecambe's Mayfair Residential Home for the elderly and is a postgraduate ambassador for the Lancaster University.
Akanimo, whose achievements have already caught the attention of the Nigerian national press, said whatever happened in the future he would always have fond memories of his time studying in the UK.
"When I first arrived here the weather was overwhelming. It was so cold. Another thing that really struck me was the orderliness of things compared to at home where there is always hustle and bustle.
"I have met some wonderful people in the UK and there are so many opportunities. I have noticed talents and achievements are celebrated and encouraged here. However, I have missed my family and friends in Nigeria– and especially my Mum's cooking."
After graduation Akanimo hopes to keep his links with the UK but he is also keen to take his skills home to Nigeria where he would like to develop environmental projects. He is also keen to develop the Nigerian care sector.
He said: "In Nigeria the elderly are entirely dependent on their family for care. I would like to push for the establishment of care homes in Nigeria. There is no more amazing feeling as being able to lend a helping hand to someone in need."