Lancaster Scientists share their knowhow with the BBC
02/03/2010 11:24:55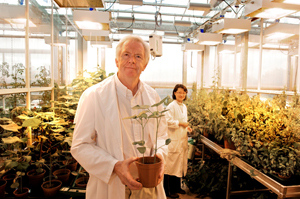 Bill Davies from Lancaster Environment Centre
Researchers at Lancaster University's Lancaster Environment Centre have been sharing their knowledge of crop production with BBC producers working on a spin off series of the reality TV programme Jimmy's Farm. Distinguished Professor Bill Davies of the Lancaster Environment Centre gave a briefing to the BBC team, helping to explain the background science behind new water saving farming techniques being used in Australian vineyards.
LEC's expertise was called upon by programme makers putting together a series called 'Jimmy's Global Harvest' which sets out to discover if the world's farmers will be able to feed us in the future. The university was credited in the programme which went out on Thursday 14th January 2010. In the programme, farmer and presenter Jimmy Doherty takes a trip to the Murray-Darling riverbasin in Australia to see if vineyards can still produce good wine with only half as much water.
Professor Davies, whose research won the coveted Times Higher Research Project of the Year in October 2009 and the Queen's Anniversary Prize for Higher and Further Education in November 2009, has been leading pioneering research in this field for a number of years.
He said: "This is a very important area of sustainable agriculture – offering farmers a way to produce more crop per drop in an arid environment. "We were pleased the programme chose to focus on this important area of research helping to raise awareness of the problems facing the world's food producers and bringing some of the solutions to a new, broader audience."
Research by Professor Davies' team has been applied extensively in Australia (in partnership with CSIRO) and in viticulture, fruit and vegetable production around the Mediterranean and in USA. The University is also applying water saving agriculture in China with collaborators from a range of institutes and universities, to focus on an important food production region where water scarcity is a major problem. One massive opportunity for novel crop production techniques where water for agriculture is scarce is in the production of rice. Lancaster collaborators are pioneering the use of wetting and drying techniques to sustain yield while saving water and reducing the impact of agriculture on the environment.
Lancaster is developing a pan-University research and training effort around Food Security, one of the major global challenges for the future.