MA students' artwork goes on show
08/13/2004 11:47:33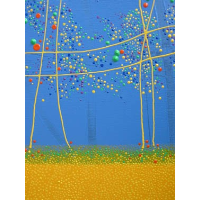 An exhibition of artworks produced by students at Lancaster University as part of their Masters Degree in Art Studio Practice will be held at the Peter Scott Gallery next month. The exhibition, entitled Insight Incite, runs from September 13-17.
The MA course combines practice and theory, and enables students to develop their fine art practice to a professional level. This year's three exhibiting artists are Sheryl Hudders, Vivien Parr-Burman and Aurelia Whalley.
Sheryl Hudders, whose work is pictured right, said: "In this body of work I am adding an artistic impression to scientific concepts by visually describing my interpretation of microscopic imagery. I am investigating the underlying rhythm and patterns of cell culture and DNA, revealed by human intervention."
Vivien Parr-Burman aims to create a contemplative and reflective space for the viewer with her art. "I develop images that explore rhythm and suggest a perception of time. My work comments on the momentum of everyday life by attempting to create an instance in which to stand still."
The focus of Aurelia Whalley's work is to provide artistic insight into animal maltreatment that evokes thought concerning global ecological issues, inciting people to help stop cruelty and preserve the environment.
Admission to the gallery is free. For further information ring 01524 593057 or visit the gallery's website http://www.peterscottgallery.com