Nuffield Hosts UK Premiere of Cult European Theatre Group
02/29/2008 15:02:43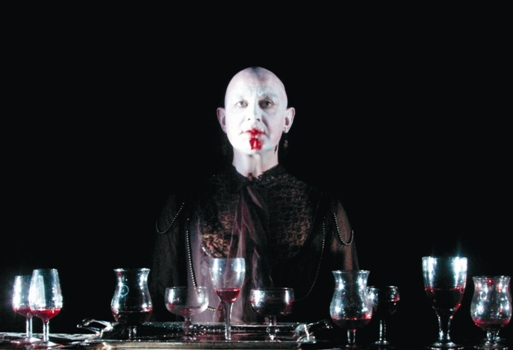 Abattoir Fermé
The Nuffield Theatre is thrilled to invite the theatre collective Abattoir Fermé for their first ever performance in the UK.
Tourniquet was chosen by a group of seven local residents as a part of the Nuffield Theatre's ongoing experimentation with new ways of selecting its programme of performances. Abattoir Fermé were these local programmers' favourite artists and they are making the trip over from Belgium exclusively for this UK premiere on Monday 18th February.
Abattoir Fermé are a theatre collective based in Mechelen, and are critically acclaimed for taking influences from comic books, paintings, horror cinema and Hollywood and weaving them into a celebration of the grotesque and the burlesque, the underground and the deviant. Tourniquet is their latest work, a silent piece that focuses on exorcism and intoxication.
The work of Abattoir Fermé is always challenging and often extreme or taboo. Not for the easily shocked, Abattoir Fermé offer up an unrepeatable evening of theatre that will not be easily forgotten.
" a hypnotic experience and one of the best plays of the year" De Standaard
For further information on Abattoir Fermé and their latest piece Tourniquet please visit: www.abattoirferme.be
Tourniquet will be performed at 8pm Monday 18th February £8/£6
For tickets, contact www.nuffieldtheatre.com
boxoffice@nuffieldtheatre.com
01524 – 594151