Student volunteers awarded over £80,000
12/13/2006 10:45:54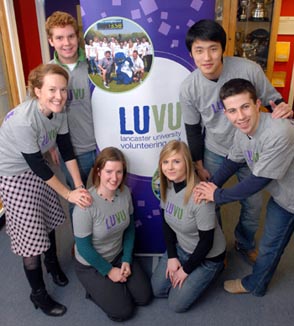 from left:Sarah Hinton and Martha Jennings with LUVU volunteers
Students at Lancaster are to help schoolchildren set up their own social enterprise with the help of a grant of over £80,000 from the youth volunteering charity v.

Over a dozen schools from across Lancashire are involved in the two-year project, which aims to enable pupils to run their own business with the profits ploughed back into the community.

Up to 150 teenagers from schools in Lancaster, Preston, Blackpool and East Lancashire are to be invited to a trade fair on campus in February, where they can choose from an array of products to sell and listen to advice from speakers.

The project is being run by Lancaster University Volunteering Unit (LUVU) whose assistant director, Sarah Hinton, said: "We want young people to get involved with their community in enterprising ways, with a specific focus on community benefits.

"The possibilities are endless – from setting up a business that invests profits into a special school project, to selling and promoting ethically traded goods, the ways that young people can get involved are limited only by their own imagination."

The v project co-ordinator Martha Jennings said it was up to the pupils what they wished to sell.


"It could be jewellery, recycled bags, basically anything which they feel would appeal to their age group.
We will help them create the business plan and market it so they can sell those products to their school. Then any profits they make will be reinvested back into the community in a project of their choice."


The students who have volunteered to advise the pupils say they are happy to share their skills with others.



Undergraduate Farida Ariori says the knowledge gained during her degree in accountancy and finance will be put to good use.




She said: "I wanted to get involved in something productive and to help other people as well as doing something good for my CV."

Chris Huang, who is studying for a finance degree, said: "It's meaningful, this project, and I'd like to do something for social enterprise."

Ed Miliband, Minister for the Third Sector, said: "I would like to congratulate Lancaster University Volunteering Unit (LUVU) on securing funding from v and welcome the part they are playing in offering exciting and innovative ways for young people to get involved in causes they care about. v is a new, exciting, youth-led charity dedicated to opening up opportunities for young people to volunteer in their communities."

There will be a gala event on campus in May when representatives from all the schools involved will give a presentation on their business and a winner will be chosen. All volunteers, both students and pupils, will have the opportunity to compete in the national Youth Achievement Awards.

The v charity was launched in May this year with a mission to inspire a million more young people aged 16 to 25 to volunteer.