Ruskin Myth Challenged
01/17/2005 12:26:23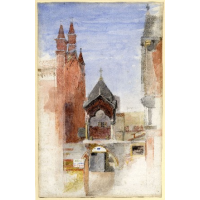 Lancaster University scholar Stephen Wildman has been quoted in the New York Times amid claims that challenge one of the most famous myths about Ruskin.
New research by Ian Warrell, a senior curator at Tate Britain, questions the story that the supposedly prudish Victorian critic John Ruskin was so horrified by the erotic drawings forming part of the artist J. M. W. Turner's bequest to the nation that he arranged to have them burned, in consultation with the Keeper of the National Gallery.
The story has been around so long that it has acquired the appearance of truth.
But Ian Warrell has claimed that a painstaking trawl through Turner's work has led him to conclude that most, if not all, the erotic art still remains in the collection and that the bonfire, said to have occurred in 1858, almost certainly never happened.
Stephen Wildman, Ruskin scholar and Curator of the Ruskin Library at Lancaster University, said that he hoped the new information would help put to rest the bonfire story and educate people about the great service Ruskin did for Turner.
In an article in the New York Times (January 13) he said: "Without Ruskin, we wouldn't have the Turner bequest as it exists today. He catalogued it, he put it on its first public exhibition and he did an enormous amount to champion Turner."
Meanwhile the Ruskin Library has opened a new exhibition. "My dearest place in Italy": Ruskin in Verona runs until April 3. It comprises a wide range of watercolours, drawings, manuscripts, books and photographs detailing the history of Ruskin's long-standing affection for the city of Verona, which he visited some fifteen times between 1835 and 1888. Included is Ruskin's largest known work, a watercolour of the medieval Castelbarco Tomb, along with many drawings recently conserved as part of a campaign aided by the Heritage Lottery Fund.
To read the New York Times article in full log onto http://www.nytimes.com/2005/01/13/arts/design/13rusk.html?ex=1106614558&ei=1&en=947ac3689ca61d78