Natural Environment Research Council
01/31/2001 09:45:28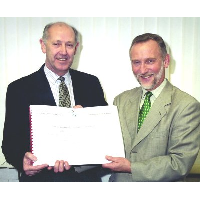 The Natural Environment Research Council (NERC) and the University of Lancaster joined forces on Tuesday 30th January with an £11 million deal to merge scientific expertise.
Contracts were signed by NERC's Chief Executive, Professor John Lawton and the Vice-Chancellor of Lancaster University, Professor Bill Ritchie, for building a new research centre at Lancaster.
The partnership will strengthen collaboration between the researchers working on important environmental issues and exploit new funding opportunities.