Female Entrepreneurs Get Ahead at Lancaster
02/10/2010 11:04:32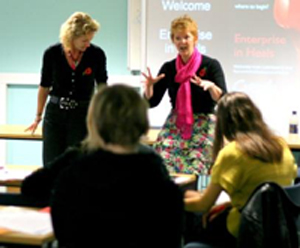 L to R: Sarrah Perris and Merryn Myatt of Perris-Myatt who shared tips on assertiveness and confidence for business.
Women considering self-employment are invited to two events at Lancaster University designed to give them a head start in business.
Following on from the success of an event called 'Enterprise in Heels' in October, Lancaster University Student Union enterprise unit Create is laying on two workshops targeting ambitious female students who want to be their own boss.
The first of these events 'Network Training' is designed to give students the skills and confidence to 'work a room' and will be held on Wednesday, 17th February, in the Conference Centre MR4 at 3pm.
Speakers include:
· Catherine Eve, co founder of the Butterfly Project
· Team Academy employee Rachel Haslam
· Maureen Fearon from AMF Consultancies
The second event 'Speed Networking' offers people the chance to meet some of the region's top female entrepreneurs from a range of sectors and industries. It will be held on Wednesday 3rd March between 6-8pm at the Management School's Hub Café.
Speakers include:
· Winner of Northwest Business of the Year 2009 and Director of Bikeright! Liz Clarke.
· Lancaster Alumna and founder of Miss Fit UK Nikki Hesford
· Stephanine Davies, Creative Director of Laughology
· Lyn Siddle of Portland Hall Spa
· Catherine West-McGrath, founder of Qd Solutions
Elizabeth Whatley of Create, said: "Enterprise in Heels was set up to encourage more female students to consider self employment and entrepreneurship as a career option.
"The workshop last November was a huge success and the positive feedback from students convinced us there was a demand for further events.
"We hope that by sharing their experience and success stories the speakers will inspire our students to take that first step into the challenging but exciting world of enterprise."
For information please contact Elizabeth Whatley on e.whatley@lancs.ac.uk – 01524 594462