Industry teams up with the engineers of tomorrow
12/30/2007 12:44:37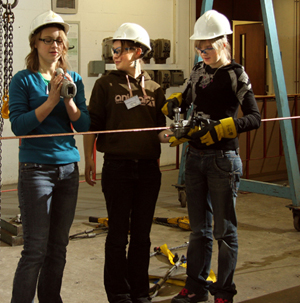 Girls from Sandbach High School, Cheshire, at work at Lancaster University Engineering Department
Fifty students from schools and colleges across the North West came to Lancaster University's Engineering Department this week to work alongside industry engineers tackling real world engineering problems.
The year 12 students from Cumbria, Lancashire and Cheshire teamed up with professional companies such as Pilkington Automotive, United Utilities and Sellafield Ltd as part of a three day residential project run by The Engineering Education Scheme.
Using some inventive ingredients – such as oxtail soup to represent sewage and vegetable oil instead of nuclear waste - the teams of pupils, teachers and engineers set about tackling some real problems that engineers are attempting to solve in industry.
The Engineering Education Scheme links teams of four Year 12 students and their teacher with local companies to work on real scientific, engineering and technological problems.
The scheme provides students with an in-depth experience in science, engineering and technology that will enable them to make an informed decision about their future studies and career.
Melanie Philips, a pupil at Sandbach High School, Cheshire, said: "This experience has reinforced for many of us that we want to go on to study engineering. It has been good working with Engineers who really listen to your ideas."
Davis Eccles, a teacher at Rainford High Technology College, St Helens, said: "The enthusiasm of the engineers and technicians has been incredible, they have been so committed to this project and it has rubbed off on the students. The concepts we have been teaching them in the classroom have come to life here – in fact this whole experience has brought engineering to life for them full stop."
Dr Nick Baker, Engineering Lecturer at Lancaster University, said: "This event is about getting people to consider studying engineering, offering examples of the kind of real world problems that engineers work with and raising awareness of career opportunities. Life as an engineer can be pretty interesting and it's important to give young people a chance to find out for themselves."
For more information about the scheme go to
For more information about the engineering department see