CEO of Saatchi and Saatchi inspires local small business owner managers
12/21/2010 00:00:00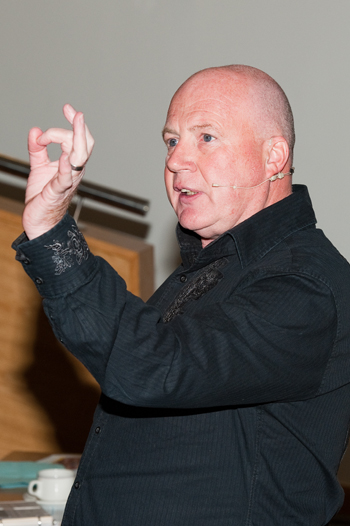 Kevin Roberts
Lancaster born, Kevin Roberts CEO of Worldwide advertising agency Saatchi and Saatchi, has inspired local business owner managers at a masterclass delivered at Lancaster University Management School. The event took place last Thursday (December 16) as part of Lancaster's LEAD programme, an innovative leadership development programme designed for small business owner-managers. The masterclass, titled "Bringing back the Magic (Thriving in the Now)" saw Kevin highlight his rise to the top of the world's leading advertising company and deliver motivational guidance and inspiration to the audience of 150 North West business leaders.
Sue Smith, Director of the LEAD programme at Lancaster, said: "Kevin's strong links with Lancaster and his iconic status as CEO of Saatchi and Saatchi make him a perfect speaker to inspire the owner-managers we work with on the LEAD programme."
Kevin joins a list of fantastic speakers that have delivered masterclasses on the programme to date including Karren Brady, Wayne Hemmingway and Michelle Mone.
LEAD is a ten month programme designed by Lancaster University Management School for owner-managers of small to medium sized businesses. By concentrating on both the business and the personal development of the owner-manager, the programme provides a framework to increase profitability, diversify and grow the business. To date LEAD at Lancaster has worked with more than 230 companies and reports have shown an increase in sales turnover, employment, productivity and profits.
Sue Smith, Director of the LEAD programme at Lancaster, said: "We set up LEAD to contribute to raising regional productivity and promote business growth by specifically focusing on the leadership development of participating owner-managers, which is extremely important in the current economic climate."
Lancaster will be recruiting for its next cohort of the LEAD programme in spring 2011. Interested companies are encouraged to contact Kim Ashby, Outreach communications Officer on 01524 510713 or k.ashby@lancaster.ac.uk