Painting as Celebration at Peter Scott Gallery
09/04/2003 10:29:27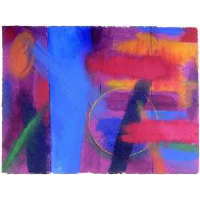 The Peter Scott Gallery at Lancaster University is mounting the exhibition W. Barns-Graham: paintings as celebration from 6 October until 5 December (closed 3 Dec). This is a touring exhibition organised by Crawford Arts Centre in St Andrews, Fife.
Born in St Andrews, Wilhelmina Barns-Graham has been a key figure since the 1940s within the group of artists associated with St Ives. She now works in both Cornwall and Fife and continues to produce paintings and prints with an evident freshness and excitement. Recognition of her achievements has recently been strengthened through the awarding of a CBE, honorary doctorates (Universities of St Andrews, Plymouth and Exeter), and the staging of a retrospective exhibition at the Tate St Ives in 1999. A much awaited biography of the artist written by Lynne Green was published by Lund Humphries in November 2001.
This exhibition will provide a rare opportunity to see work from the last 15 years. Key works from earlier in her career will also be included as reference points to recurring themes and preoccupations, and two paintings from Lancaster University's art collection will complement this touring exhibition. Various media will be included but, as with the artist's recent work, the exhibition will focus mainly on vibrant works on paper. Barns-Graham describes her work as 'an expression of joy and a celebration of life'. Lynne Green has written a catalogue essay which illuminates the essential characteristics of this period in the work of a remarkable artist in her 92nd year.
Also on display 6 Oct – 5 Dec in the Irene Manton Room will be an exhibition of illustrations and designs by John Chambers (1869-1945), Chief Designer at Pilkington's Tile & Pottery Company during its golden era.
Admission Free. All Welcome. Gallery open during exhibitions:
Mon – Fri 11am-4pm & late Thurs 6-8.30pm Tel: 01524 593057
For further information or images (sent directly by e-mail) please contact Lauren Humphries on 01524 592229; e-mail: Lauren.Humphries@lancaster.ac.uk; Peter Scott Gallery, Lancaster University, Lancaster, LA1 4YW