Olympic Gold Medallist Opens Fitness Centre
11/03/2003 11:08:27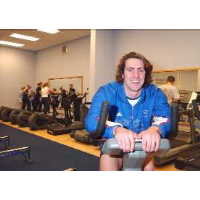 Jason Queally, Lancastrian and former student and member of staff at Lancaster University, officially opened a new fitness facility in Lancaster University's Sports Centre on Friday 7th November.
Lancaster University Centre for Sport recently upgraded their 'Life Fitness' suite, to a new state of the art cardiovascular fitness room. The room is now twice the size of the old facility and boasts 22 stations as well as ab-rollers and individual training mats. This room is available for use by the general public as well as members of the University.
Jason was a member of Bowland College at Lancaster University and won the Gold Medal 1km sprint cycling in the 2000 Sydney Olympics . He was awarded an honorary degree in 2001. Jason graduated in Biological Science in 1992, and then worked as a research assistant with Professor Terry Mansfield. After working as a technician in the Biological Field Station, he left in 1996 to pursue his sporting career full-time. He still keeps in touch with the department. He also met his wife Vicky, at Lancaster University. Jason was awarded the Alumni achievers award in recognition of his achievement.