Family Graduation
07/12/2005 14:48:46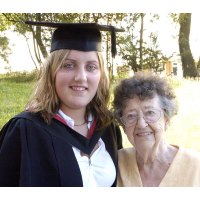 Marie-Claire O' Mally graduated from Lancaster University on Monday 11 July, watched by her 89 year old grandmother Anne Parkinson who received her PhD from the University in 2003. Anne celebrated her 89th birthday on the day Marie-Claire graduated.
Marie-Claire, who lives in Lancaster, is a member of Pendle College, graduated in English Literature and plans to complete her British Sign Language tests and become a sign language interpreter.
Marie-Claire would like to work with disabled people in the local area. She already has experience of this while working with Camp America during her degree.
Anne, who studied in the History Department under Professor Michael Mullett is an ardent researcher into Catholic History and was selected from hundreds of nominations to receive a Senior Learners Award. She was one of just nine regional award winners to be selected for awards, run by the National Institute of Adult Continuing Education (Niace), to recognise hard work and commitment to learning in 50+ adults.
Marie-Claire had just completed her second year at Lancaster, when her grandmother was awarded her PhD.