Nigerian King visits campus
10/26/2006 12:11:45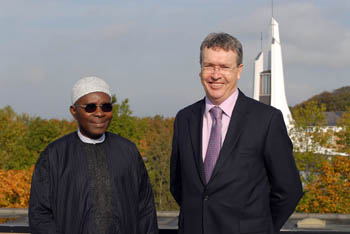 HRH Oba Oladele Olashore with the Vice Chancellor Prof Paul Wellings
A traditional chief from Nigeria has visited Lancaster University as part of a collaboration with an international school.

The University is in the process of establishing a Foundation Programme with Olashore International School in Osun State, Nigeria, which is owned by His Royal Highness Oba Oladele Olashore.

A prominent businessman with service in the Nigerian Government, the Oba – or King - is the traditional ruler of Iloko Ijesha, which has a rural population of around 15,000 people in the south west of the country.

As part of his visit, he met the Vice Chancellor Prof Paul Wellings, had lunch in InfoLab21 and toured campus as well as listening to presentations by Deputy Vice Chancellor Prof Bob McKinley and the Head of Communications and Marketing John McGovern.

HRH Oba Oladele Olashore founded the international school in 1993 as a private, co-educational boarding school for 600 pupils.The school is set in 92 acres and facilities include a 2,500 seat assembly hall, a sports stadium, library, business centre, computer lab, arts studio and design and technology centre.

Terry Bray, Overseas Programmes Officer at Lancaster, has already visited Nigeria to help establish the Foundation Programme.

He said: "The Oba is prominent in the activity of the School and his support is important for the viability and sustainability of the programme. Olashore International School has students of excellent academic standard. They will enrich the experience of all Lancaster students. The Foundation Programme consists of a specially designed year's course at the school in Nigeria during which the students follow a variety of courses that prepare them for study at undergraduate level at Lancaster. We hope to get the programme up and running in Nigeria in 2007 with the first cohort coming to Lancaster in October 2008.''

There are currently 49 students from Nigeria at the University, mainly post-graduates studying at Lancaster University Management School.


Before setting up the school, HRH Oba Oladele Olashore was the Managing Director and Chief Executive of the First Bank of Nigeria plc and the Chairman of Standard Chartered Bank Nigeria Limited as well as being the Founder and Chairman of the Lead group of companies. He was also the Federal Secretary of Finance for the Nigerian Government and served as Chairman of the G24 in Washington on behalf of the Government. In 2002, he was awarded the Commander of the Order of Nigeria by President Olusegun Obasanjo in recognition of his contribution to the country.