Student wins iPhone App competition
11/17/2010 00:00:00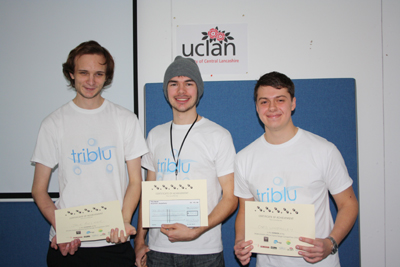 L-R Jack Bulmer (UCLan), Stuart Allardes (UCLan) Chris Winstanley (LU)
Student wins iPhone App competition A Lancaster University student was part of a team which scooped first prize in a mobile game competition.
TriBlu, made up of Chris Winstanley, from Lancaster University's School of Computing and Communications and Stuart Allardes and Jack Bulmer, from the University of Central Lancashire (UCLan) won the final of this year's Mobile Bullets Competition, a showcase for the skills and expertise of Lancaster University's programming students and UCLan's game design students.
TriBlu took first prize for their pitch and game Terraslam - a 24-level, retro, skill shooter game designed to be marketable as an entertainment App for the iPhone, iPad and iPod Touch handsets. Based on the concept of a game of marbles, players have to hit 'planets' off the screen within the time and number of shots assigned to that level.
Following the competition, TriBlu, in partnership with Preston-based GlobiGames, have finalised a Lite version of Terraslam which is now available to download, for free, from the Apple iTunes store.
Chris Winstanley, who designed the programme for the game, said: "Winning the competition was a massive deal for our team. We had worked almost non-stop for three months to create a game that represented all the enthusiasm and enjoyment that had gone into making it and was something we would enjoy playing ourselves. After the experience I am definitely considering creating games professionally and have also been offered the chance to develop other games. The fundamentals and practices that I learnt through my course at Lancaster helped me more than anything when it came to approaching this project. The support I received from members of the department was invaluable."
County Councillor Michael Welsh, chair of Lancashire County Developments Limited - the County Council's economic development company, said: "Creative industries - intellectual property, design and software development - are critical to our strategy to develop Lancashire as a centre of excellence for innovation and technologically based business.
"We want to encourage graduates to stay in Lancashire and play a part in the modernising the local economy. We were very pleased to work with Mobile Bullets and other partners in mounting this competition and providing an opportunity to identify and encourage new talent to break through."
The Mobile Bullets Competition, now in its fifth year, was supported by Black Bull Studios, Globi Games, Shiny Development, Lancashire County Developments Limited, Preston City Council, UCLan, and Lancaster University*. The competition started as a games design project for second year UCLan students, with four winning students joining forces with Lancaster University programming students to develop the two best concepts into fully marketable games. http://www.youtube.com/watch?v=K6fVfk-C5So
The full version of Terraslam is expected to be available before Christmas with a download price of £0.59p. To download Terraslam Lite please visit the iTunes store at via this link http://itunes.apple.com/gb/app/terraslam-lite-1-0/id398388943?mt=8
* Part-funded by InfoLab21's InfoLab21 Strategic Technology Exploitation Programme (ISTEP). ISTEP is a Solutions for Business product which connects digital and creative companies with InfoLab21 academics in order to share their expertise and is part-financed by the European Regional Development Fund.