Firsts For Twin Graduates
07/22/2008 13:22:53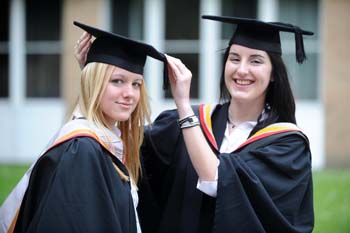 from left: Kerry and Kirsty Humphreys
Twin sisters who have both obtained first class degrees have graduated together from Lancaster University.
Kirsty and Kerry Humphreys, who are both 21, were awarded their degrees in the same ceremony at the Great Hall watched by their proud parents and younger sister Katherine.
Kirsty received a first class honours degree in Biological Sciences while her twin sister Kerry was awarded a first in Physics, Astrophysics and Cosmology.
Kerry said: "We both worked really hard and didn't expect to do that well but we're really pleased that it's paid off."
Kirsty now plans to stay on at University after she was awarded an MSc research studentship funded by The George Barton Trust, which funds research into motor neurone disease.
She said: "I'd like to stay in the science field and do more research and perhaps go into teaching later on. I'm happy to stay here because I love Lancaster University – it's so green on campus and it just felt like home. We're both from north Wales so as soon as we saw the countryside up here, it felt right and we both chose to come here."
The twins even lived in the same college on campus.
"We both chose Pendle College but we didn't live in the same block so we did have our own sets of friends because we're both quite independent, but it was reassuring to be together."
Kerry now plans to do a PGCE at Chester University specialising in science.
"I'd like to teach physics in high school because it's a great subject but with the shortage of teachers it's a shame that more pupils aren't getting the chance to learn how fascinating it is."