New Director of The Lancaster Leadership Centre
11/01/2007 08:58:10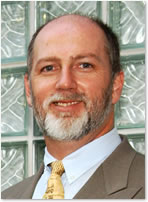 Professor Iain Densten
The Lancaster Leadership Centre has a new Director. Professor Iain Densten has joined LUMS from the University of New South Wales at the Australian Defence Force Academy, where he was Associate Professor of Leadership. Professor Densten took up his new role in early September after nearly ten years at the Canberra-based university where he developed undergraduate and postgraduate leadership courses for the armed forces.
Having completed his PhD at MonashUniversity in 1997, Professor Densten spent all of his academic life in Australia before accepting this position at Lancaster. "In recent years I've been looking into leadership in Europe and the United Kingdom and discovered some interesting ideas, so I wanted to experience this more closely by being based in England," Professor Densten said. "Lancaster University Management School is a really dynamic place, everybody here has a project or issue they are passionate about, and I have an excellent opportunity to head up one of the most respected leadership teams around. There is a need to develop an identity for the Lancaster Leadership Centre and we plan to build up a research direction, assist the leadership academies, and further support those people involved in our various projects."
Professor Densten will spend his first six months building links with the 'C-Suite' – Chief Executive Officers and the like. "We want to understand the complexities of being a leader and how people operate at the top of an organization," he explained. "Lancaster University Management School already has significant relationships with large organisations and we will start by contacting the leaders of those businesses to see if they are interested in working with us to generate sophisticated knowledge about how better to lead at CEO level." An academic-practitioner forum is also on the Director's agenda. "Such a forum would bring together current, credible and usable knowledge which would feed back into the School and advantage practitioners, academics and students while also informing journals," Professor Densten said. "We are in the business of creating usable knowledge that has impact."
As well as taking charge of the strategic direction of the Lancaster Leadership Centre, Professor Densten plans to benefit from Lancaster's rich research culture to further undertake his own studies. "One of my research areas is the relationship between leadership and burnout," he said. "During burnout, or prolonged stress, people cope by depersonalizing those around them. For example, a police officer may view a member of the public as a statistic rather as an individual, which then changes how they interact. Burnout tends to make individuals become anti-social and distance themselves from work colleagues who would normally provide support, so their leader is in a key position to assist them. It is therefore important that leaders are educated and trained to help their people acquire appropriate coping mechanisms." Professor Densten will also develop his research into leadership and knowledge creation such as how leaders can encourage an idea-generating climate at work.