Innovation at the edge: Lancaster social researchers collaborating with arts and industry
09/16/2009 13:59:30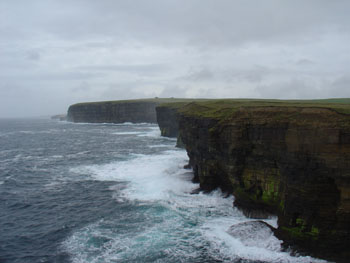 Atlantic coastline of Orkney
Lancaster University researchers will be collaborating with arts, industry and local government representatives from Orkney this week in a series of events that are a culmination of their exploration of innovation on the islands.
On 22nd September, researchers from the University's Department of Sociology will host a one-day workshop in Stromness to discuss work to date on their research project, 'Relocating Innovation'. This international project questions our assumptions about innovation through studies based in Orkney, Silicon Valley, and Budapest.
In addition to the workshop Dr Laura Watts, who spent five months conducting research in Orkney last year, has collaborated with local publisher Alistair Peebles of Brae Editions to edit a collection of 49 different imagined Orkney futures. The book will be launched on the evening of 22nd at the event 'EQUINOX: An Evening For Orkney Futures' featuring poetry readings, film, photography, and extracts from the book.
Dr Watts said: "These two events are very important to me. After working alongside so many generous people in Orkney last year, these events begin to weave together the latest academic ideas about innovation with very practical questions around the future of the islands. The book I've had the pleasure of co-editing with Alistair Peebles is just one example of social theory put into practice.
"The future is not 'out-there' but is planned, designed, and made in everyday life. The landscape of Orkney, the people and place, makes a difference to how the future is imagined and made here.
"As a remote archipelago Orkney is sensitive to the environment, and the infrastructure of everyday life is far more visible here than in many places in the world. The islands' sensitivity - to the movement of energy, ecology, and consumer goods for example - leads to more environmentally-sensitive innovation. Orkney is a harbinger of futures only talked about elsewhere".
'EQUINOX: An Evening for Orkney Futures' will be held at The Pier Arts Centre, Stromness, 22nd September, 7:30pm. Places limited. Please contact info@braeprojects.com to book a seat. Orkney Futures: A Handbook published by Brae Editions will be on sale priced £7.50.
About Professor Lucy Suchman
Lucy Suchman is an anthropologist with longstanding experience of research and development in the area of information and communication technologies. After a twenty-year career as a researcher in a leading U.S. laboratory, the Xerox Palo Alto Research Center (PARC), she is currently engaged in a critical, theoretically informed analysis of the lived realities of 'high-tech innovation', to be published under the provisional title Reproducing the Centre: Performing Innovation at Xerox PARC. See her website for more information www.lancs.ac.uk/fass/sociology/profiles/31/
About Dr Laura Watts
Laura Watts is an ethnographer who has spent the last eight years researching the futures and archaeologies of high-tech industry. She has worked with organisations in the mobile telecoms industry, the public transport industry, and the renewable energy industry, with particular attention to the effect of landscape on their futures. Prior to her academic career she was a designer in the telecoms industry. She publishes her work in a variety of formats, including podcasts and prose, examples of which can be found on her website at www.sand14.com
About Endre Dányi
Endre Dányi is a PhD student at the Department of Sociology at Lancaster University, interested in different sites and material practices of political representation. His doctoral research focuses on the Hungarian Parliament – an iconic building in the centre of Budapest – and examines the ways in which various narratives about a national past and the workings of a democratic political regime are performed in the same building. More information on his research is available at www.lancs.ac.uk/fass/sociology/pgrprofiles/84/
About Relocating Innovation
'Relocating Innovation' is a 3 year research project at the Department of Sociology, Lancaster University, funded by The Leverhulme Trust. Further information is available on the project website at www.sand14.com/relocatinginnovation/