Learning is a family affair
08/09/2007 10:41:06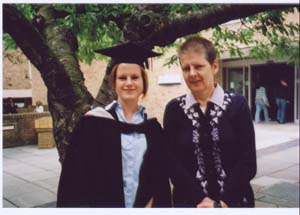 Diana and Catherine Kitching
A mother and daughter from the Lune Valley have both graduated from Lancaster University.
Diana and Catherine Kitching, of Cowan Bridge near Kirkby Lonsdale, both studied at the University's Bowland College.
Diana, who left school at 17 and did not return to education until 1998, was the first in her family to go to University. She completed an Access course at the Adult College in Lancaster which meant she could apply for a degree without needing A Levels.
She urges others to follow in her footsteps and points out that there is no need to be deterred by the thought of the possible cost of higher education.
"Fees are means tested and you will be entitled to financial help if you are on a low income" she says. "We didn't have to pay a penny for Catherine, nor for my first degree."
Diana did a variety of jobs from driving buses and book-keeping to working in geriatric care before taking an English degree in 2001, followed by an MA in Ruskin Studies a year later. She now plans to do a PhD while continuing to work at the University in administration.
"It's quite another experience going to University if you're older because you have a different perspective and are very focused and not distracted by the social life. I got a huge amount out of my time here. Going to university has completely changed my outlook on life and given me an increased confidence and belief in myself."
Her daughter Catherine, who is 23, attended Lancaster Girls' Grammar School before going on to University where she graduated this year with a degree in Media and Cultural Studies. She said: "Mum went before me so it wasn't such a big deal but I've really enjoyed my time here. I lived at home which was good because I had the advantage of being able to come in during the holidays as it was so near."
She now plans to work before taking an MA in a few years' time.