Proteins help speed up disease research
01/20/2006 10:09:02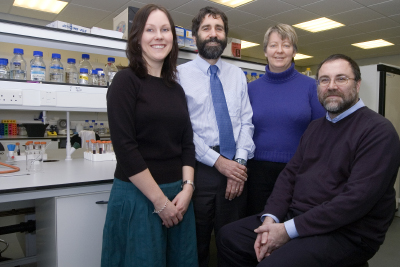 From left to right: Dr King, Dr Smith and Dr Benson
with Professor Allsop (seated).
Lancaster University scientists have recently developed a method for making three specialised proteins, which could now be used in research laboratories around the world.
The research team, based in Lancaster University's Biomedical Sciences Unit (Department of Biological Sciences) anticipates that these proteins will help to further their research into the biochemical pathways underlying some common human diseases including Parkinson's disease, Alzheimer's disease and certain forms of cancer.
The researchers, Dr. Jenny King, Dr. Fiona Benson and Professor David Allsop, have now entered into a commercial arrangement with Sigma-Aldrich, a leading USA-based international Life Science and High Technology company, who will now sell the proteins worldwide. The researchers and Lancaster University will share a royalty on each sale.
Another three proteins produced by Lancaster University are now undergoing quality assessment trials and are expected to enter the Sigma-Aldrich catalogue during 2006.
Prof. David Allsop said: "These proteins have only been discovered fairly recently, and their commercialization will now help to speed up research into the causes of some very important human diseases."
Dr Gavin Smith of the University's Enterprise and Commercialization Division helped to set up the arrangement with Sigma-Aldrich.
Dr Gavin Smith said: "This is an excellent commercial format. The hard work was in identifying the opportunity, finding a commercial partner and reaching a deal. Now that our scientists have transferred the materials to Sigma-Aldrich, it undertakes all the manufacturing, marketing and sales, with no further input of academic time required. We are now looking for other materials ready to make a similar transition from a research-specific role to commercial development."
Sigma-Aldrich is a leading USA-based international Life Science and High Technology company, whose biochemical and organic products are used widely in scientific and genomic research, biotechnology, pharmaceutical development, the diagnosis of disease and as key components in high technology manufacturing (http://www.sigma-aldrich.com).