Government Minister says Lancaster is a world leader in energy research
03/17/2011 13:19:59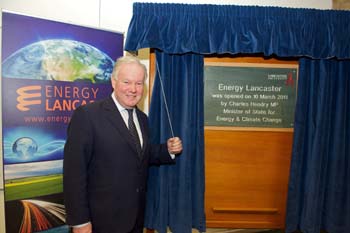 Minister of State for Energy and Climate Change Charles Hendry unveils a plaque to mark the official launch of Energy Lancaster
The Minister of State for Energy and Climate Change Charles Hendry has said that Lancaster University is leading the way internationally in energy research.
He was speaking at the official launch of Lancaster University's new centre for energy research, which brings together expertise in everything from nuclear and renewable energy to transport policy.
Mr Hendry said: "Energy Lancaster really is a transformative opportunity to deal with global challenges. This is a university which is going to be a game changer not just in this country but around the world."
Researchers at Lancaster are currently working on 47 energy-related projects worth in excess of £7m. Funding comes from research councils and industry, including multinationals such as BP and Fiat, and the money will also be used for spin-out companies to take the research to market.
Mr Hendry said:"The opportunities here are truly breathtaking and the work you do here is impressive. I think this gives a very good example of what we'd like to see happen across universities in this country. Energy efficiency is a massive growth sector and this means tens of thousands of jobs in the offshore wind sector alone."
Researchers in Energy Lancaster are working to address problems such as:
Research, development and training for the nuclear industry

Improving the design of tidal, wave and hydro power

Assessing the environmental impact of electric-powered cars

Measuring how grasslands could help 'lock in' carbon

Understanding the public's relationship with transport
Professor Colin Boxall, Director of Energy Lancaster, said: "The strength of the model is that Energy Lancaster is interdisciplinary, with researchers from Science and Technology, LUMS and social sciences. It's telling that other universities are now copying this model.
"Working alongside Lancaster's well-established knowledge transfer teams based in the university's InfoLab21 and the Lancaster Environment Centre, Energy Lancaster will be well placed to contribute to the development and management of a secure and sustainable future for the UK's energy needs."
After unveiling a plaque to mark the opening, Mr Hendry answered questions from the audience which was drawn from both industry and academia as well as the local community.
http://www.energy.lancs.ac.uk/