UPP Eco Residence at Lancaster University wins 2008 UK BREEAM Award
09/30/2008 13:33:31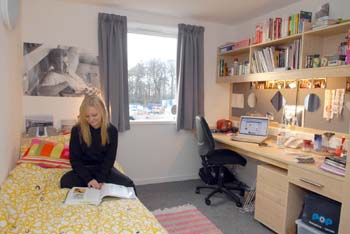 A room in one of the Eco Residences
The pioneering Eco Residence designed by UPP and Lancaster University has been selected as one of the UK BREEAM Award winners in the Multi-Residential category. The BREEAM Awards recognise the highest scoring buildings certified under BREEAM.
The Eco Residence received a BREEAM Excellent rating earlier this year, and is the first replicable, scaleable model of its kind in the HE sector. It is currently being further developed at the University of Kent in Canterbury and Leeds Metropolitan University in Headingley, Leeds.
Designed in response to the need for improved environmental performance balanced with affordable rent, the 800-room Eco Residence has allowed Lancaster University to take the lead in sustainable development in the HE sector. Students at the University are even encouraged to track their energy usage with a live online monitoring system, thus acquiring good habits at an early stage in their university careers.
In order to ensure a low carbon footprint, the Eco Residence is built off-site from sustainably sourced timber, and features high levels of insulation, air tightness and innovative mechanical heat recovery ventilation systems.
Clive Crawford, Chief Executive of UPP, commented: "We are committed as a business to seeking reductions in the utilities consumed in our schemes and reducing the waste generated both in construction and in operation. We are delighted that our working in Partnership with Lancaster University has led to our winning this award, and hope this will encourage other universities to seek out sustainable solutions to their accommodation needs. With the Government's zero carbon aims and the transition into a 21st century world, it is great to see the HE sector leading the way in sustainability and educating the homebuyers of tomorrow."
Mark Swindlehurst, Director of Estate Management at Lancaster University, said: "With increasing competition for the brightest talent in both the UK and overseas, this Eco Residence plays an extremely important role in how we position ourselves in the international market. It has been designed as an affordable environment that will promote good habits and having seen the energy usage decrease and recycling increase since students moved into the residences in January, we are extremely pleased that these sustainable behaviours have already been whole-heartedly adopted. We are proud to be setting an example not only to students, but to universities throughout the UK."