Award for University's Tourism Centre
12/04/2008 10:05:50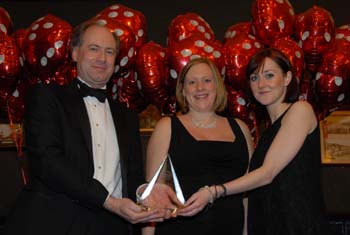 Alan Heywood, Kirstine Whiteley and Emma Edmonson
The Tourism Centre at Lancaster University has won an award in the 2008 Lancashire Excellence in Tourism Skills Awards (LETS) organised by Lancashire and Blackpool Tourist Board and supported by the Northwest Regional Development Agency (NWDA).
Nine awards were handed out during the Vegas themed awards ceremony at the Dunes Conference Centre in St Anne's, where the Tourism Centre won in the Dedication to Learning category and was a finalist in the category of Best Practice in Training and Career Development.
The award was presented by celebrity guest presenter Emma Edmonson who played Coronation Street's Mel Morton.
Lancashire and Blackpool Tourist Board's Chief Executive Mike Wilkinson said: "Lancashire and Blackpool Tourist Board are committed to improving the visitor economy and experience by ensuring our workforce have the skills and training they need. We couldn't achieve this without the dedicated trainers who share their knowledge to further the success of others. It is a pleasure to award The Tourism Centre for their 'Dedication to Learning' as they have shown a wide range of skills development and training initiatives for Lancashire businesses."
The Tourism Centre, based in the Geography Division at the Lancaster Environment Centre, supports economic growth within the North West visitor economy and the creative and cultural economy through a range of projects. Team members include Alan Heywood and Kirstine Whiteley.
Over the past six years, the Centre has
created 138 new jobs in the visitor economy

safeguarded another 421 jobs

generated business growth of £5.7m

safeguarded incomes of £19.6m.
Tourism Centre Manager Alan Heywood said: "This award is an acknowledgement of the work we've done for the past six years and it demonstrates how we have helped the regeneration of the industry through linking business and the University."
The award for Dedication to Learning was for the 'Business Builder' marketing courses and the 'ALIVE' programme which offers leadership skills to business owners and managers.
One of the clients on the ALIVE programme, Helen Hemus of Lancashire Museum Service, said: "It has been an amazing experience – I've learnt so much about myself, and the qualities required to be a leader."