Students take up green business placements
02/01/2006 10:35:06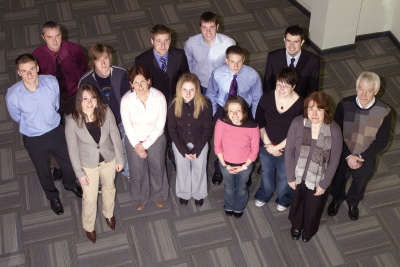 Business placement students
Science students from Lancaster University are helping North West businesses tackle their environmental challenges.
The group of 21 MSc level students are taking up placements in 20 companies across the region ranging from vegetable processors to Biofuel producers. During the placements, which range from five-weeks to four months, the students will take on individual projects and draw up reports, which will be submitted to the business.
Student projects will range from making recycling recommendations to carrying out environmental impact assessments. The placements will give students an opportunity to put their skills to use and provide them with a crucial insight into environmental opportunities in the work place. Students on the longer projects will also receive a £1,000 bursary from Lancaster University for completing the research.
It is the first year the Lancaster Environment Centre has carried out the scheme for the long projects although shorter industry placements were undertaken by 14 students last year.
Businesses have been keen to take part with requests for students outstripping supply. Through the students, the businesses will also gain access to wider academic expertise at the University, particularly in the Lancaster Environment Centre – one of the largest environmental research groups in Europe.
The projects have been set up by Lancaster University-based DESIRE – Delivering Environmental Solutions into Regional Enterprise-as well as the more general business partnerships programme in LEC.
DESIRE Project Manager Mike Entwistle said: "These projects aim to deliver real environmental benefits to the participating companies while also providing our students with much needed experience before they embark upon a career in the environmental field."
Dr Moira Decter, LEC Business Development Officer, said: " These projects aren't about blue skies thinking they are very practical, very focussed and extremely valuable for our students. We have been delighted by the response from North West business and we hope the links we have built will continue."